Wike's Recklessness Will No Longer Be Tolerated By Rivers People—Peterside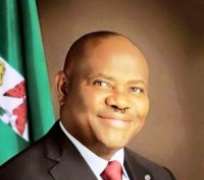 The All Progressive Congress Governorship candidate in the 2015 election and the Director-General of NIMASA has described Gov. Nyesom Wike's strategy of intimidation and blackmail as crude, uncultured and unbecoming of a person occupying the high office of Governor, saying that this is not only unacceptable to Rivers people, but the good people of Nigeria. He described such acts as irresponsible.
Dr. Dakuku Peterside who was reacting against the backdrop of Gov Wike's outburst against the Nigerian Police force and the person of the Inspector-General of Police said that it is unbecoming of Gov. Wike to arrogate to himself the powers to determine and decide which officer should be posted to Rivers State or any other state for that matter, stressing that it is not in doubt and therefore not debatable as to the fact that it is only the Inspector-General of Police that has the powers, as a matter of administrative and operational procedure, to identify and deploy competent officers to take charge of any state based on intelligence exigencies.
Dr. Dakuku Peterside emphasized that it is not in doubt that Wike's fear about which police officer is posted to Rivers State is based on the erroneous believe that it will be business as usual without recognizing the principled position of the current administration.
The APC former governorship candidate advised Gov Wike to toe the line of decency and stop blatant lies and unwholesome blackmail of security officers just to give a dog a bad name to hang it, stressing that Rivers State is a peace-loving state and Gov Wike's style, antics and desperation to be in power is gradually eroding the jealously-guarded characteristics of the good people of Rivers State.
In a related development, the 2015 governorship candidate of the All Progressives Congress, APC, in Rivers State, Dr. Dakuku Peterside has lambasted Gov. Nyesom Wike following the governor's vituperation against the Independent National Electoral Commission [INEC] and its Chairman yesterday at a public event.
"Nyesom Wike must grow up in etiquette, public conduct and utterances. This is definitely not a fitting portrayal of who we are as decent Rivers people. We have a history of decency in our utterances, public conduct and inter-relationships. Rivers State is indeed on a downward spin and only God can salvage our once respectable and peaceful state," Dr. Peterside bemoaned.
Dakuku Peterside Media Team
Friday, 22nd, 2016