Presidency denies probing NNPC oil deals under Kachikwu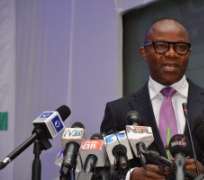 The Federal Government has denied it is probing  probing of oil swaps and crude oil lifting deals entered into by the Nigeria National Petroleum Corporation under the tenure of the Dr. Ibe Kachikwu as the Group Managing Director of the Nigerian National Petroleum Corporation.
Kachikw combined the post of the GMD, NNPC with the post of Minister of State for Petroleum Resources until recently when President Muhammadu Buhari announced a new GMD and appointed Kachikwu to the position of Chairman of the NNPC.
Reports indicated that the Buhari presidency is prying into the deals entered into by the NNPC with the  international oil companies  and local oil cabals under Kachikwu.
But reports indicate that the IOCs and their local agents are mounting intense pressure on the administration to truncate the probe idea.
Sources indicate that the probe is centred on finding out why some of the companies involved in the different deals are companies discredited by the present government as having fraudulent deals with the past government, and why the NNPC cancelled the swap deals by the last government when the new government came to power, while claiming that  the deals were fraudulent only to re-engage some of the companies they claimed were corrupt.
But a statement  by Femi Adesina special adviser on media and publicity to President Muhammadu Buhari, on Tuesday, described the probe investigation as untrue.
According to the presidential spokesman, "reports, particularly by online media, that the immediate past Group Managing Director of the Nigerian National Petroleum Corporation (NNPC), who is also Minister of State for Petroleum, Dr Ibe Kachikwu, is being investigated over crude oil swap deals and gas liftings during his tenure as GMD of the petroleum corporation, President Buhari appealed for decent and civilized comments, particularly when it has to do with the integrity of those who are serving the country".
"Terrible and unfounded comments about other people's integrity are not good. We are not going to spare anybody who soils his hands, but people should please wait till such individuals are indicted," the President said.
He however reiterated President Buhari's commitment to probity, accountability and integrity, stressing that transparency would remain "a watchword, which would never be trifled with".