GOV. IKPEAZU'S COUSIN KIDNAPS A COURT WITTINESS TO PERVERT JUSTICE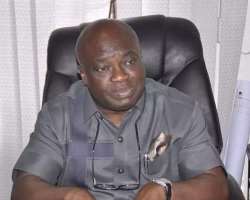 John Chigoziri Chigbu,the Youth Leader and a maternal cousin to the Governor of Abia State Governor has embarked on a bizarre act of impunity by kidnapping one Mr Uchechukwu Nwaogwugwu in Osusu village in Obi-Ngwa local government of Abia State.
Governor IKpeazu's maternal cousin, Mr John Chigbu and Mr Uche Chukwu Nwaogwugwu are both involved in a Land dispute resulting to a Court Case, suit No HOB/40/2013 at the High Court of Obi-Ngwa, Abia State
As the hearing on the case was to come up on the 19th of July, 2016, Mr UcheChukwu Nwaogwugwu arrived Osusu Village on the 18th of July, 2016, in readiness to give evidence at the court sitting the next day. At about 19:30 pm that same evening, Mr John Chigbu led a truck load of men numbering over 15 and on Police uniform to forcefully kidnap Mr. UcheChukwu Nwaogwugwu. This act of impunity based on the relationship between the Abia State governor and his Youth Leader, Mr John Chigbu is an excessive show of oppression, suppression, repression, persecution, abuse, injustice, maltreatment and the highest level of cruelty to a fellow human being. His boast that the governor has authorized and approved his act must be condemned by all and sundry.
As at the time of filling this report, Mr Uchechukwu Nwaogwugwu's whereabout is unknown. No phone contact has been established on his whereabout. His relations and aged fragile mother have visited almost every police station in Aba but non so far has admitted his presence or otherwise. One of his brothers has this to say "....We have gone to the Zone 9 Police Headquarters in Umuahia, Central police Station Aba and Umuobiakwa police stations and no trace of him. My life and that our 87years old mother is in danger.
My brother Uchechkwu Nwagwugwu, only came back from Onitsha, Anambra State, where he is living with his wife and three children, working as a mason man to attend the court case on the 19/07/2016 but at about 19:30 pm, on the 18/07/2016, he was kidnapped here in our house in our village.
For John Chigoziri Chigbu, to be using his connection with the governor of Abia state, to intimidate us because we are poor is very unfortunate...."
The 87 year old mother and other family members are pleading with the governor of Abia State, Dr. Okezie Ikpeazu to intervene to rescue Mr Uchechukwu Nwaogwugwu from Mr John Chigbu who kidnapped him. The Nigeria Police, the DSS, and all human Rights groups should intervene as delay may be dangerous.