Frank Alordiah:Happy Birthday To IDU President, Lagos branch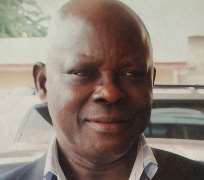 I want to use this medium to wish Mr.Frank Alordiah, Isoko Development Union President,Lagos branch,who marks 61 today.He was elected as the IDU President last year and today,he is one leader carrying his IDU executives along in terms of IDU leadership in Lagos.
As a technocrat who works with one of the flagship companies in Lagos many years and left honorably to start his own business.He is one front-line member of Isoko club 2000,one of the Isoko elite clubs in Lagos.
He has served several capacities in the union both IDU and Isoko Club 2000, he was once the chairman of Owhelogbo,Lagos branch few years ago and exhibited quality leadership to the core.
Frank Alordiah is a creative compere of pedigree.
He remains an indefatigable leader of repute.Once again,happy birthday bash sir.We wish you glorious years in Jesus name amen.
By Godday Odidi Aguriase
Image maker expert/Blogger
08058124798
Lagos