Nigerian troops kill 25 Boko Haram militants, lose one soldier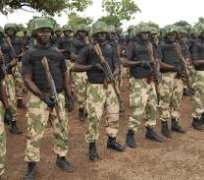 The Nigerian Army on Wednesday confirmed that troops of the 119 Task Force Battalion stationed in Kangarwa in the northern part of Borno State successfully repelled an attack on Tuesday night.
According to a statement by the Army spokesman, Colonel Sani Usman,  25 bodies of Boko Haram terrorists had been recovered after after the attack.
He said that the attack, which started at about 6:30pm, was successfully repelled after about three hours of exchange of heavy gunfire that inflicted tremendous casualty on the terrorists.
It stated that one gallant soldier paid the supreme price, while 11 others were wounded in action and one of the unit's gun truck was badly damaged.
He said,  "As at this morning, the troops counted 25 bodies of the Boko Haram terrorists and recovered 2 Rocket Propelled Grenades 7 (RPG 7) tubes, a 60mm Mortar tube, 2 Machine Guns, 12 AK-47 rifles and one Light Machine Gun.
"The body of the gallant soldier and those wounded in action are being evacuated, while the unit is carrying out mop-up operation."
The Army had earlier put the casualty on its side as two dead, seven injured.
Kangarwa had been a stronghold of the insurgents until it was recaptured by the Nigerian forces.
Kangarwa and its environs used to be the major rallying point for insurgents coming into Nigeria from Niger and Chad.