US TRAINS NIGERIAN SOLDIERS, OTHERS TO FIGHT TERRORISM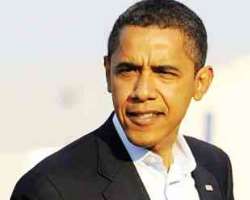 PRESIDENT OBAMA
A major joint military exercise with Nigeria and other countries around the volatile Sahara desert region is beginning as part of a United States programme of counter-terrorism, the British Broadcasting Corporation reports.
The three-week Operation Flintlock aims to improve the ability of the region's armed forces to work together to bring security to the area.
It serves as a base for the group al-Qaeda in the Islamic Maghreb and has seen increased terror attacks.
In addition to Nigeria, Flintlock 10 mainly involves Mauritania, Mali, Senegal, Burkina Faso, Niger, and Chad.
Other countries in the region are taking part, but in a more limited way.
The operation is part of the US Trans-Sahara Counter-Terrorism Partnership, and European nations such as the United Kingdom, Germany, France and Spain are also involved.
About 1,200 people will take part in the exercise with about 300 of these based in Ouagadougou, Burkina Faso, where a temporary command centre has been set up.
The next three weeks will see the military personnel assembled in Ouagadougou looking at how they can better work together to counter the security threats in the Sahel and Sahara, according to the BBC.
Al-Qaeda in the Islamic Maghreb has been responsible for attacks on Western targets in Mauritania and also hostage takings.
The group is currently hold two Spanish hostages and is suspected of being behind the kidnapping of a Frenchman in Niger last month.
Just last month, Algeria, Mali, Mauritania and Niger launched a joint military command headquarters in the south of Algeria to co-ordinate their efforts.
Critics point out that these initiatives have led to little action as yet and that one of Flintlock's major limitations is that it only involves Algeria, the regional military heavyweight, in a limited way, our correspondent adds.