Free Emeka Ugwuonye Now!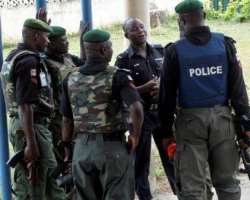 The Youths for Human Rights Protection and Transparency Initiative (YARPTI) totally condemns the July 1st barbaric arrest of Barrister Emeka Ugwuonye by armed policemen from Abuja and calls for his immediate release.
YARPTI gathered that a crack team of police officers from the anti-kidnapping squad of the Criminal Investigation Department of the FCT Police Command barged into his Lagos office in plain clothes welding automatic assault war-iss...ued riffles and whisked him away to their dark cell in Abuja.
We are not impressed with the manner of his arrest. We are asking why the police did not send in an Invitation to him. Why did they choose to come on Friday , knowing very well that next week Tuesday and Wednesday are public holidays in Nigeria? Who is behind this arrest?
Ever since the mysterious long disappearance of Abuja based socialite Charity Aiyedogbon, ex wife of David Aiyedogbon, there is one question on the lips of most Nigerians who have followed this case "Where is Chacha?"
US Trained Nigerian lawyer Emeka Ugwuonye took it upon himself to get to the bottom of the case and solve riddle concerning Chacha's disappearance and alleged murder giving voice to the downtrodden like Chacha.
YARPTI don't want to believe that Emeka's efforts are being sabotaged by some highly placed Nigerians. Ugwuonye is the founder of a human rights group Due Process Advocate .
We are worried that Nigeria is going back to the era of impunity and wanton detention of citizens on the most spurious allegation . We are worried that the country is going into the dark days of civil right oppression and suppression. Free Emeka Ugwuonye Now !!!
Kenneth Uwadi
President , Youths for Human Rights Protection and Transparency Initiative (YARPTI)
www.yarpti.org

Disclaimer:

"The views expressed on this site are those of the contributors or columnists, and do not necessarily reflect TheNigerianVoice's position. TheNigerianVoice will not be responsible or liable for any inaccurate or incorrect statements in the contributions or columns here."
Articles by Kenneth Uwadi