Atletico Madrid open talks with Chelsea about taking back striker Diego Costa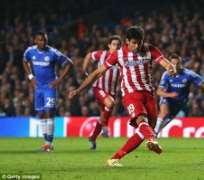 Atletico Madrid have opened talks over a move for Chelsea's Diego Costa as they target a new striker for next season.
The Champions League runners-up have money to spend from the sale of Jackson Martinez to Chinese side Guangzhou Evergrande Taobao.
Diego Simeone's La Liga giants from the Spanish capital also have improved television rights money.
They have similarly enquired about Gonzalo Higuain of Napoli and Pierre Emerick Aubameyang at Borussia Dortmund, however, Costa is considered the more realistic option.
Chelsea are aware their Spain international is unsettled and is interested in a return to Atletico.
They have agreed to sign Belgian Michy Batshuayi from Marseille but retain a strong interest in Real Madrid's Alvaro Morata.
Everton's Romelu Lukaku and Higuain are also on their list but both are expected to be more expensive with Lukaku now valued closer to £70million.
Lukaku revealed that he wants to leave the Toffees over the summer in order to further his career.
The 23-year-old hitman, who scored 25 goals in all competitions last season, was quoted as saying in the Daily Star : 'I'm at a point where I have to make a good career choice.
+4
Gonzalo Higuain (left) runs with the ball for Argentina in the Copa America Centenario final against Chile
'We have a new investor at Everton and out of courtesy I will listen to what he has to say. But I have my own ideas in mind. I want to win titles.
'I have had a very good season, but it is time for me to write myself a CV. That is why I play football. I got that trophy-winning mindset from Chelsea.
'People in Belgium don't see me playing for Everton, but I am respected by fans, managers and experts like Jamie Carragher, Graeme Souness and Thierry Henry.'
Everton hitman Romelu Lukaku (right) – seen with his Belgium colleagues on Tuesday – is also on Chelsea's list