NETANYAHU MEETS MUBARAK AHEAD OF FRESH TALKS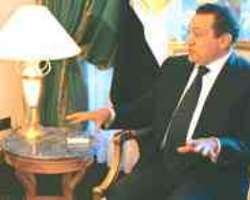 Hosni Mubarak
Israeli Prime Minister Benjamin Netanyahu has met Egypt's president before the expected launch of indirect Middle East peace negotiations.
Netanyahu spoke with Hosni Mubarak for 90 minutes in the Egyptian city of Sharm el-Sheikh.
The British Broadcasting Corporation, quoting an Israeli statement, said the talks were 'constructive'
and 'took place in a good atmosphere'.
Arab League foreign ministers on Sunday backed the resumption of Israeli-Palestinian so-called proximity talks.
The two leaders 'reviewed Egyptian and international efforts to prepare the ground for the indirect talks aimed at a two-state solution,' Egypt's official news agency MENA said.
Netanyahu's office said they discussed 'renewing the peace process and other regional and bilateral issues'.
Plans to launch the negotiations failed last month over a row about Israeli plans to build 1,600 homes in occupied East Jerusalem.
The Israeli news website Ynet reported that the indirect talks, which are expected to involve the United States envoy George Mitchell shuttling between the two sides, would start on Wednesday.
But Palestinian leaders require the backing of the Palestine Liberation Organisation to join the talks, and officials said the body would not meet until Saturday.
Mitchell was due to arrive in the region later on Monday.
Israeli-Palestinian peace talks have been stalled since 2008.
Israel has occupied the West Bank, including East Jerusalem, since 1967. It insists Jerusalem will remain its undivided capital.
Nearly half a million Jews live in more than 100 settlements in the West Bank, among a Palestinian population of about 2.5 million.
The settlements are illegal under international law, although Israel disputes this.
The Palestinians refused to enter direct talks unless Israel completely halted building in the West Bank and East Jerusalem.
Israel imposed 10-month limits on new residential construction in the West Bank, but vowed to continue work in East Jerusalem.
But reports suggest an unofficial slowdown of approvals for major projects in the east of the city may be under way.