Naira depreciates further against dollar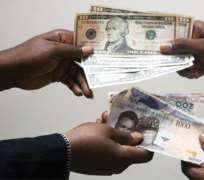 The Naira on Monday depreciated further against the dollar at the parallel market, losing N2 to exchange at N347 to the U.S. currency.
The News Agency of Nigeria (NAN) recalls that the currency traded at N345 to the dollar on Friday
The naira also traded at N370 to the Euro and N460 to a Pound Sterling at the transactions.
At the Bureau De Change (BDC) window, it exchanged at N344.5 to the dollar and N430 to the Pound Sterling.
At the interbank segment of the market, the naira closed on a positive note of N281.49 to the dollar.
Traders at the market said that they were yet to feel the impact of the floating exchange rate policy of the Central Bank of Nigeria (CBN).
They also remarked that the Brexit was still affecting the value of the Pounds at the parallel market.