New militant group threatens to bomb Third Mainland Bridge, Bonga Oil field, Onitsha–Asaba Bridge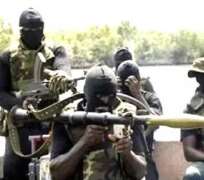 A new militant group, the Asawana Deadly Force of Niger Delta (ADFND), on Saturday, vowed to bomb the Bonga Oil Field, Third Mainland Bridge and the Onitsha – Asaba bridge among others on the southern region.
The group said it would carry out its threat should the Federal Government refused to relocate headquarters of oil multinational such as Agip, Chevron and Shell to the Niger Delta region where they ply their trade.
Included in their request is the relocation of all refineries in the country back to the region within the stipulated time, adding that they were all built with "our oil money."
ADFND is just one of the numerous militants groups emerging at the wake of the FG's positive disposition to dialogue with aggrieved militants, particularly the deadly Niger Delta Avengers (NDA) from the volatile region.
In a statement signed by its leader, Commander Olomubini Kakarakokoro, aka No Mercy and circulated to journalists in Delta State on Saturday, ADFND warned that it was not making an empty threat.
The group had earlier issued a statement on Thursday claiming that it has replaced the dreaded NDA, which the latter has not debunked.
'We are bombing Bonga field, Onitsha -Asaba bridge, Third Mainland bridge, and other major bridges across the southern of the country, on Saturday 2nd July,2016.
'This is not a mere threat. The only way out is for the Federal Government to relocate all headquarters of major oil companies to Niger Delta.
"They are built with our oil money. They must be moved back to the Niger Delta region.'
'If the Federal Government fails before the sad day, we shall surely carry out the attack.
"The companies, which headquarters we want back now, include; Chevron, Agip and Shell, which have their headquarters in Lagos," No Mercy vowed in the statement.
The statement added that: 'In addition, the Federal Government should move all refineries to the Niger Delta.
"This is without further delay as we shall meet further delay with corresponding colossal damage in the mentioned places on the said date," the statement further read.
The group vowed to compound the woes of the country, saying: 'We want to tell President Buhari that now that the going is getting tough, the tough has to get going."