Ikorodu Utd escape death in road crash that claimed 18 lives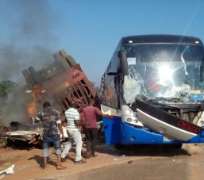 Players and officials of Ikorodu United came close to the cold hand of death, but death could not have them. They were at the very centre of a ghastly motor accident at the Ninth Mile Corner, a suburb of Enugu, that claimed 18 lives but made miraculous escape. hey had only minor injuries.
The club's Media Manager, Babatunde Ayoola,  told SportingLife on Friday  that the accident occurred at about 4 pm along Ama Brewery Road, 9th Mile, Enugu on their way to honour Sunday's Match Day 23 match of the Nigeria Premier League (NPL) against Lobi Stars in Makurdi.
Ayoola said a trailer lost control and rammed into the Chisco bus the team was in and another 18-seater bus.
All the passengers in the 18-seater bus died instantly, he said, but the Oga Boys were 'saved by the Grace of God.'
Ayoola said, "A trailer rammed into our bus and we were saved By His Grace. Our driver managed to escape and everybody jumped out of the bus to save their lives. The players and staff sustained minor shoulder injuries.
"The accident involved our bus and another 18-seater bus. All passengers in the 18-seater bus died.  We have requested for another bus from Chisco to move us out of this place."
He added that the players are still shaken and not in the right frame of mind to play any game. They are also hopeful that the Lobi match will be moved to another day.
"We have been trying to reach the League Management Company (LMC) to inform them of the incident. I don't think the players are mentally ready for the game because of the shock," Ayoola said.