House orders probe of three Reps whose alleged sexual misconduct was reported by the US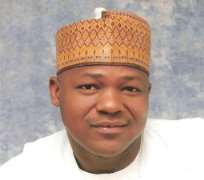 Members of the House of Representatives on Monday began investigation into an allegation of sexual misconduct leveled against three of its members by the United States embassy.
The Speaker of the House , Mr. Yakubu Dogara,  directed the investigation of the the alleged sex scandal following a formal complaint made by the US Ambassador to Nigeria, Mr. James Entwistle.
The Chairman, House Committee on Media and Public Affairs, Mr. Abdulrazak Namdas, confirmed this in Abuja.
The US Ambassador to Nigeria, Mr James Entwistle, in a letter addressed to  Dogara, said while one of the lawmakers "grabbed" a female hotel staff in his room, the two others requested some staff to assist them get "prostitutes."
The three lawmakers are Mohammed Garba Gololo (APC, Bauchi), Mark Terseer Gbillah (APC, Benue) and Emmanuel Ikon (PDP, A/Ibom).
Entwistle said the "conduct could affect some participants' ability to travel to the United States in the future."
He said in the letter that "It is with regret that I must bring to your attention the following situation. Ten members of the Nigerian National Assembly recently traveled to Cleveland, Ohio as participants in the International Visitor Leadership Program on good governance. We received troubling allegations regarding the behavior of three members of the delegation to this, the U.S. Government's flagship professional exchange program.
"The U.S. Department of State and the Cleveland Council on World Affairs received reports from employees of the Cleveland hotel where the representatives stayed, alleging the representatives engaged in the following behavior."
One of the lawmakers allegedly grabbed a housekeeper in his hotel room and solicited for sex, while the two others allegedly requested hotel parking attendants to assist them to solicit prostitutes, the letter said.
House spokesman Abdulrazak Sa'ad Namdas, who spoke on the development at the press conference,  said the investigation into the alleged misconduct had commenced.
According to him,  "Ten of our members went to Ohio, US and participated on an international programme on good governance. However, we're in receipt of a letter from the US ambassador where he alleged that there was misconduct by some of our members.
"As a responsible parliament, the leadership is investigating the matter. When investigation is concluded, we'll brief you further on the issue. But for now, this is what I have to tell you. It remains an allegation until the investigation is concluded."
One of the accused members, Rep Gbillah in a letter to the US ambassador has threatened legal action against the US government and the hotel.
Attempts by our reporter to get the reaction of the two other affected lawmakers were not successful as they did not respond to text messages sent to their mobile phones.