President Buhari: Killing One Nigeria Slowly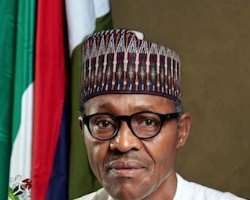 We were told that the Civil war was fought to keep Nigeria one. In the Primary School they taught us that the acronym of GOWON is "go on with one Nigeria". Nigeria, with her wobbling tripod has been managing and pretentiously too to remain one. Now, President Buhari may be set to prove Gowon wrong. This is why the agitations of IPOB, and the Niger Delta Republic are getting stronger.
Firstly, Buhari said only those who voted for him will get 95% of government attention. This is undemocratic. True to type, Buhari has never given gave more than 90% of federal appointments to the Fulani's. Hear him "I am more comfortable with working with the Northerners especially the Fulani's" This is an expression of primordial sentiment, which has portrayed Buhari as an ethnic chauvinist. Now, all principal appointments in Nigeria are in the hands of Northerners without regard to the Federal character. Our President obeys no law and even violates the constitution with impunity.
Secondly, Buhari,s budgetary allocation on infrastructure also marginalized the South-South and the South-East. His purported war against corruption follows the same pattern. Whereas, PDP people are prosecuted with impunity, corrupt APC politicians have not been touched.
Nigeria is now a tale of unmitigated disaster such that a colonizing power – Britain could describe Nigeria as "fantastically corrupt". But why not? Buhari's anti-corruption was is a political vendetta, as only PDP people are being prosecuted. Buhari can unashamedly investigate the campaign funds of PDP but has said nothing about the APC. Crooks in APC are now being beatified while everybody of worth in PDP is persecuted. Under X-President Jonathan, PMS sold for N86.50 per litre and now the President has officially announced that PMS is N145.00 per litre
Buhari is still obsessed with the ills of the Jonathan administration and by so doing, he is making Jonathan's image loom larger. Boko Haram is riding roughshod and the bombs are dropping more frequently. More and more innocent Nigerians are abbreviated. The APC Apostle of change appears not to be bothered. Indeed we have entered the era of change in the negative retrogressive direction. Sometimes, one begins to ask; what manner of change is APC bringing to Nigeria? Is it the Zaria massacre that is the change or the Shiite Sunni division leading to killings in parts of the North? Is it the change in the price of Petrol kerosene from N50.00 to N85.00 which Nigerians buy in pains? Under the nose of APC, almost all MNCs are sacking their workers, the few investors the past administration brought in are on the run; the banking industry is embarking on massive downsizing, even private companies are sacking because they cannot afford to pay workers, yet electricity tariffs are jacked-up and this is likely to precipitate a nationwide protest. That is APC's model of creating jobs. Laughable!
The South-South produces the budget of the Country but the North has contributed so much by sponsoring Boko Haram, a human hyena that has sucked the blood of innocent men, women and Children. I see reasons with Buhari for over-compensating the North. What is more, he has declared Amnesty for Boko Haram yet Boko Haram has not stopped killing, so it is with the Fulani herdsmen. Buhari's assertion the killer Fulani herdsmen are not Nigerians contradicts his earlier assertion that the North has 20 million cows, which is why the Presidency is pushing the GRAZING RESERVE BILL. There is no doubt that President Buhari is incoherent and inconsistent. While Buhari instructed the Nigerian military to search for Tompolo, he has done nothing about his Boko-Haram brothers marauding the North. Boko Haram is a terrorist group that has killed countless Nigerians and destroyed billions worth of property. Buhari has not done much about this terrorist infrastructure.
While Buhari is hounding the OBOTE MEN, the Amnesty students have written to President Muhammadu Buhari to keep the Amnesty Programme running because the well-being of Niger Delta Children is at stake. Let it be noted that the Programme was introduced by a Northerner President Umar Musa Yar'Adua from the same State with President Muhammadu Buhari to reduce militancy in the Niger Delta Region, which provides the foreign exchange of Nigeria. The Daura-born Maj. General is pretending not to know. The Amnesty Programme is grossly under-funded, so it is with the Niger Delta Development Programme. No Nigerian will forget that the crude oil from the Niger Delta provides the foreign exchange for the Federal Government to run the administration. We are watching President Buhari as he implements the pro-North and anti-Niger Delta agenda.
We acknowledge that Buhari has an ear infection but he has paid deaf ears to the list of the most corrupt Nigerians
The List of Top 20 Most Corrupt Nigerians (dead/alive) According To CNN
1. Oluesgun Obasanjo – He stole $25 billion from 1999-2007 ($16.4 from power sector alone)
2. Ibrahim Babangida – He stole $15 billion from 1985-1993 ($12.4 billion from oil wind fall in 1990)
3. Abdulsalam Abubakar – He stole $9 billion from 1998-99
4. Sani Abacha – He stole $7 billion from 1993-1998
5. Ahmed Bola Tinubu – He stole and continues to steal from Lagos State treasury since 1999 till date. It's estimated that he has stolen $6 billion so far.
6. TY Danjuma – He fraudulently got enriched through oil blocks from the Niger Delta worth $20 million in the 70s after the counter coup. Those oil blocks worth billions of dollars in today's value.
7. Sanusi Lamido Sanusi – He stole $1.2 billion as CBN Governor from 2008-2014.
8. Bukola Saraki – Through his father, Olukola Saraki, their bank, Societe Generale and as a governor of Kwara State (2003-20111) he stole $1.1 billion
9. Nasir El Rufai – Before he was made the FCT Minister, El Rufai was broke, homeless and was looking for loan to import taxis from the UK. After he was made the minister, he seized landed properties that belonged to Nigerians and resold them with huge profit. It's estimated that he stole $1 billion from 2003-2007.
10. Tunde Fashola – He is the poster boy of Tinubu. Boht of them looted Lagos dried and left it in debt of about N1 billion. Fashola, among other thing built his personal website for N78 million, drilled borehole for over N100 million per each and built a kilometre road for N1 billion. He stole $900 million from 2007-2015. He'll soon be a minister to continue the looting.
11. Chubike Rotimi Amaechi – From 2007 to 2015, he stole $700 million and $150 million from that money was used to sponsor Buhari and APC.
12. Atiku Abubakar – When he as asked by our reporter how he made his money, he simply said "he was always at the right place at the right time." Atiku is an astute businessman, but through shady deals, he stole $500 million from 1999-2007.
13. James Ibori – He stole $150 million from 1999-2007 as governor of Delta State. He's serving his term for money laundering in the UK.
14. Amina Mohammed – This woman was the founder of Afri-Project Consortium (APC) that was in charge of all PTF Projects during Abacha's regime. About $125 million was stolen from PTF accounts from 1994-1998. Buhari has just nominated the same woman as a minister to continue to stealing.
15. DSP Alamieyeseigha – He stole $120 million and was arrested for money laundering. He pleaded guilty and long served his term.
16. Sule Lamido – He stole $110 million between 2007-2015 and out of that amount, $50 million was found in his sons' bank accounts. He was arrested and detained for days together with his sons.
17. Rabui Kwankwaso – He stole $100 million as a governor of Kano State. EFCC has arrested many of his aides and they are "singing" how they siphoned the money
18. Kashium Shettima – this governor has stolen about $80 million and still counting.
19. Rauf Aregbesola – he has milked Osun State to the tune of $60 million.
20. Kayode Fayemi – this former governor stole $40 million and stashed some part of the loot in Ghana. He was reportedly bought a bed for N50 million.
Read more at: http://www.naijaonpoint.com/nigerian-news/breaking-the-list-of-top-20-most-corrupt-nigerians-deadalive-cnn-report.html#ixzz4BkY4Qw82
A peep at the list of corrupt Nigerians show that apart from Late DSP and James Ibori, the rest of them are ranking members of APC. Most of the corrupt persons are the people in Buhari's cabinet. This explains the insincerity of the Buhari administration in fighting corruption. Aribisala was right when he said President Buhari is not fighting corruption but fighting PDP.
to be contd.
Disclaimer:

"The views/contents expressed in this article are the sole responsibility of the author(s) and do not necessarily reflect those of The Nigerian Voice. The Nigerian Voice will not be responsible or liable for any inaccurate or incorrect statements contained in this article."
Articles by Idumange John