See new trends in Nigerian weddings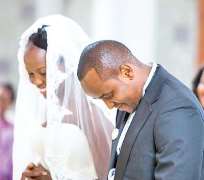 She was grinning from ear to ear in the salon. Restless and unable to contain her joy, Ogochukwu was showing everyone who was inter­ested pictures from her pre-wed­ding photo shoots splashed all over popular blogs in Nigeria.
Ogochukwu and Ikenna recently released their pre-wedding photos to blogs. They were captured on a park dressed casually and staring lovingly into each other's eyes like love-struck teenagers on their first outing.
They were also captured playing behind a tree with faces spattered with smiles good enough to melt a heart of stone. In another pose, she was sitting on one of his legs while he knelt on the other. The chemistry between them was infectious.
With these pictures online, they have become the envy of men and women alike, especially those plan­ning to get married. They become the topic for discussions among la­dies who dream to have such beau­tiful pre-wedding photo shoots too. They want to feel what it is like to have their pictures on famous blogs too while sharing their happiness with the world at the same time.
New trends displace old practice
Weddings these days are no longer what they used to be. From planning the pre-wedding photo shoot where intending couples make others drool over their pic­ture to organising the event, which gulps a major chunk of the wedding budget. For many Nigerians, this fad is here to stay.
This in-thing about recent wed­dings stealthily sneaked into Ni­geria and it seems every intending couple as well as friends and well-wishers have caught the bug. The fad of planning a perfect wedding has now taken the centre stage in the country.
It doesn't even matter if some of these weddings pack up months or years after. It is also inconsequential if all the money they spend plan­ning the wedding of the year go down the drain in a matter of years, they just want to follow the trend. Many intending couples are more interested in portraying perfection other than actually looking forward to building their lives together till death.
Some of these soon-to-be cou­ples even travel outside the shores of Nigeria for their pre-wedding photo shoots and celebration. They don't wish to be left out of what ev­eryone is doing. They need to keep up with the trend. They have to show the world how beautiful their love is and how much they are will­ing to spend for their big day.
Nigeria has six geopolitical zones: South West, South-South, South East, North East, North Cen­tral and North West. Each of these zones has its distinct culture and social customs. They all have their customs with regards to the institu­tion of marriage.
This suggests that the different tribes in Nigeria have customs pe­culiar to their areas. What is clear though is that the big cities have influenced the style of weddings in the more remote parts. People now want to join the train of wedding trends rocking the industry.
Wedding turning full industry
The idea of hiring canopy and renting chairs and tables, fans, pur­chase, distribution and sewing of aso ebi, purchase of bridesmaids' dresses for both Christian and Mus­lim weddings among others are practised in all geopolitical zones. It can then be imagined the immense value the wedding industry has add­ed to the Nigerian economy, taking into consideration the younger pop­ulation of marriageable age.
The Nigerian wedding industry is currently the largest in West Af­rica, creating vast employment for individuals in various aspects such as fashion and style, beauty, cater­ing, photography, event planning, confectionery, venue styling and music entertainment.
Today, young aspiring and cre­ative Nigerians have made great impacts within the industry with different innovative ideas that make wedding fun, romantic and unfor­gettable experience for couples and their wedding guests.
In recent times, many event cen­tres have been unveiled to accom­modate the growing trend of wed­ding in and around the country and more and more wedding parties are staged at these ever comfortable event centres. And due to uncertain weather conditions, convenience and safety of the guests remain a top priority.
To the people who make couples dream weddings come true, plan­ning a dream wedding can be a very daunting task for most couples considering the level of organisa­tion and task involved in planning a perfect wedding especially when balancing it with their busy lives.
Planners and budget
Weddings in Nigeria are big busi­ness. In 2012, consumer expen­ditures in Nigeria totalled $160.9 billion, a figure expected to surpass $300 billion in the next five years, according to Euromonitor. A large portion of it is spent on weddings and other festivities.
Funke Bucknor-Obruthe of Zap­phaire Events said that couples are always looking for new and creative ideas that will give their weddings that extra wow factor and make it the talk of town for years to come. She added that her outfit has been committed for years to doing that.
Another event planner, Chioma Obiefuna of Kristabel Events de­bunked the notion that event plan­ners add to a couples' budget by in­sisting on including many things in their packages. She said that rather, they are present to help manage the clients' budget.
Obiefuna said that planning wed­dings is not a fixed price thing. Her company has different pack­ages; which consist of consulta­tion, budget construction, planning, co-ordination, and management. It also includes the wedding day co-ordination to prevent the wedding of her prospective client from being rowdy.
Kristabel Events are also hired to manage the vendors already sourced by the couple. Her prices range from N150,000 and above. But the price is entirely dependent on the package chosen by the cou­ple as well as their budget.
''Everything concerning plan­ning isn't about the middle class or high class. Every cadre is meant to enjoy the service of an event planner and that is what we do, give our clients unforgettable weddings'', she said.
Another wedding planner, Funbi Akinyosoye, the CEO of Dunamis Events noted that weddings have grades and specifics these days. At Dunamis events, they take time to find out the specifics of the couple as well as their objectives and priority for their big day. They take all these little details into consideration.
''We find out if they are particular about guests entertainment like want­ing a famous DJ or guest artiste. We also take into account, the type of food, drinks, location and number of guests they are planning for'', she stated.
Akinyosoye added that price for organizing a wedding for 300 guests, costs a minimum of N2.5 million while planning for 500 guests costs from N4 to N8 million. She noted that it all depends on how elaborate the event would be.
Innovations by caterers
Because food is perhaps the most essential aspect of a truly unforgettable Nigerian wedding experience, pas­sionate and creative caterers are com­ing up with mouth-watering delicacies to serve wedding guests away from the traditional sit down meals.
Caterers like Anthonia Alasa Ojen­agbon love the idea of providing meals for weddings. She revels in the fact that her recipes and peppered snails are top of the menu for weddings.
According to Ojenagbon, to provide food for a wedding depends on some factors including the number of guests,   the type of food her clients demand for as well as how much they are willing to spend to entertain their guests on their big day.
She added that before tomatoes be­came gold, her services cost N1500 per plate but now it's N1800 per plate of food. So, if a client is inviting 300 people to their wedding, their budget for food should be around N500, 000.
Photography not left out
Photography is a must for every wedding. In the past, the rave of the moment was the black pictures. Then came wait and get photos for couples who can hardly wait to relive their happy moments. Then it was the dig­ital pictures. Today, couples who can afford it enjoy their pictures in CDs and beautiful photo albums creative­ly arranged by their photographers.
The wedding industry is currently experiencing a huge trend of young passionate and dynamic photogra­phers as well as videographers who have given their role a whole new meaning in today's world of technol­ogy. It is so lucrative that many of these creative minds are smiling to the bank.
D.G. Media owned by Bidemi Eg­bebi is one of those who have rede­fined the art of wedding photography in Nigeria. His works speak for him as he is sought by many to capture their unforgettable moments for a fee.
One of his clients, Mrs. Oyedepo told Saturday Sun that when she got married in 2014, her wedding and post wedding photo shoot gulped N250, 000, which also included her four wedding photo frames. But she swears that his job is perfect because her wedding album has survived wa­ter attack numerous times.
Segun Ajayi is the CEO of Ele­dumare Photos. He is a famous ce­lebrity photographer ruling Lagos Island and its environs. He says his prices vary from client to client be­cause it's an open market. According to him, it's a policy that if he is cover­ing a client's wedding, pre-wedding photo shoot is complimentary, but his charges are from N250, 000 and above.
Ajayi added that if his client wants just pre-wedding photo shoot, it will cost them N50, 000 for hard copies and N100, 000 for digital photos on CD. To him, capturing such beautiful moments make him proud of what he does.
Ibrahim Badamosi, is owner of IBB Photo Studio. He revealed that the amount he charges for pre-wed­ding photo shoot depends on the area his clients want the photo shoot to be done.
''It also depends on the individual involved, and the person's will power to bargain. What I charge customer 'A', may not be what I will charge customer 'B'. I first observe their financial standing before charging them at times', he said.
Badamosi noted that how often he gets customers depends on the connection he has. He said it is not usually easy to get jobs these days especially with the current econom­ic crisis, 'because there are people ready to do it at a cheaper price for the client. So, it is not about whether one has a shop or not, it is depen­dent on word of mouth referral sometimes and how one advertises one's works to the public.'
Make up also making waves
Make up for the intending bride and her bridesmaids also take a part of the finances set aside for wed­dings these days. Gone are the days when brides-to-be do their own makeup.
Today, their makeup is done with precision and creativity while tak­ing into consideration the colours for the day. They match their make­up with the theme colours they have chosen for their special day.
The effects of the professional makeup artistry on these brides unveil perfect looking faces, well drawn eye brows and perfectly lined lips and eyes that can capti­vate everyone who set their sight on them.
Nifemi Fagbohun operates Niffy's Signature, a makeup out­fit in Egbeda area of Lagos. She is devoted to transforming her clients into sweet goddesses on their wed­ding days.
She revealed that make up for engagement and white wedding costs N160, 000. That is N80, 000 for each event and if there's change in outfit for the engagement day, it attracts an extra N10, 000. All these are all stated on her company con­tract form that she gives to intend­ing brides. They have to agree to the terms on the form and immediately they sign the form, the agreement is binding.
But to help her clients, she gives a discount of N10, 000 from the total charges if her client is having her engagement and white wedding on the same day, but these charges are for bridal clients within Lagos. Then for those outside Lagos, she charges extra based on distance as also stated on her company contract form. Her pre-wedding make up costs N40, 000.
For Ponmile Funsho-Adebayo, CEO of Ojuloge Arts Beauty World, her charges depend on the package chosen by her client. She has three categories of packages. They include silver, gold and plati­num. Silver costs N50, 000, Gold N100, 000 and platinum costs N150, 000. Platinum is expensive because she uses air brush for the bride.
Having been in the business for a while, Adebayo noted that most potential clients opt for silver most times. Business is good because she gets clients as often as people wed these days.
No more the usual hair salon
Olofinade Adetunji popularly known as TJ, is a celebrity hairstyl­ist and CEO of Haircraft Salon in Surulere, Lagos. His charges de­pend on the distance and how many people are on the bridal train. It may also depend on if the prospec­tive client is just coming to style their hair at the salon, for which he charges a minimum of N25, 000.
From hobby to career
Someone like Chioma Okeke, CEO Chihavillah Cakes who loves baking cakes, she has turned her hobby into a career, as more cou­ples are looking for cake designers who can blow their minds away.
Okeke said that her prices are determined by design, flavour and size of the cakes her clients choose from her gallery. Colour also plays a huge role in how high or low her prices can get. To get one of her creative, edible cakes will cost one from N60, 000 and above.
No dull moment for MCs
As a famous comedienne, Helen Paul noted that the industry has changed. People wed every Satur­day, and those who know the im­portance of professional master of ceremonies at their events still re­quire her services. So, she is always in business.
Another MC called Shaggy says his charges depend on the venue and the calibre of his clients. ''When I have to travel outside my base, it attracts extra charges. When it is also a known personality whose ceremony I am compeering, the price is higher. I cannot charge them what I charge an average Ni­gerian, he added.''
Musicians not left out
Wedding entertainment has taken a new turn; more couples are tak­ing control now, most prefer young dynamic upcoming soul or hip hop bands. Charges also depend largely on the calibre of artistes chosen for the event.
For couples who love a particular genre of music, getting their favou­rite musician can cost them a lot of money as these sought after musi­cians have serious schedules and making out time for their own event means coughing out more money just to entertain their guests.
A famous Nigerian musician who doesn't want to be named revealed that his service for three hours cost N200, 000. He stated that since he is always busy all year round, he sometimes uses high price to trim down the list of his prospective clients.
Celebrity MCs and stand-up comedians charge higher for wed­dings. The Yoruba traditional wed­ding MCs known as Alagas gener­ally cost less and they do their job with a distinct flair and class that leaves the guests beaming with smiles.
Decors also have a place
In the past, when average Nigeri­ans are getting married, they don't hire a wedding decor, they just buy the decoration accessories they want to use and give them to fam­ily and friends to use to decorate the cars that will take them to their wedding venues.
Wedding venue styling is a mega business in the fantasy world of weddings today. Couples are will­ing to pay the best decorator in town who can visualize and bring out the magic wand, which can truly turn their wedding venue into a fairytale.
For decorators in Lagos, Abuja and Port Harcourt, the cost of mak­ing the event centre a dream place for the bride and groom depend on what they actually want. The prices are dependent on the many items that will be used to light up the venue.
While some couples keep love their decorations simple, others pre­fer romantic atmospheres with pot­ted plants, tulle, flower petals, and twinkle lights to create a pattern on the aisle.
Sometimes, the difference be­tween a dull wedding venue and a grand one is in how creative deco­rators strategically place simple things to make them stand out and beautiful.
Even the drinks
Drink and be merry they say; from traditional drinks to unique cocktails and fruit juices to accom­plish choice dishes. More young entrepreneurs are mixing and blending to create the best cocktails for the perfect wedding guests.
Most couples pay a service fee icing and serving but have a trusted friend or family member moni­toring the service of such drinks on their big day. Sometimes, the event planner sorts out the section of drinks to a trusted vendor. The price for such services are from N250,000 and above depending on the number of guests and the type of drinks that would be served on that day.
Wedding assistants for small pockets
The services of wedding assis­tants are used by busy brides who cannot afford wedding planners. They help to run errands, from look­ing for venues to distributing cards and fabrics to wedding guests. It is a perfect job for any restless soul that loves weddings.
Wedding day co-ordinators are trained individuals who are on ground on the big day to ensure that all goes well according to plan. It has become an ideal job for gradu­ates with passion for weddings, and who can communicate effectively and also take up responsibilities too.
No more tailors but designers
Bespoke suits are a popular trend at Nigerian weddings. Intending grooms aim to outdo one another in their trendy, classy and unique suits. These suits come in different colours that leave their intending brides in awe.
In a bid to provide easy wedding dresses for intending brides, Qupid Bridals understand that some brides simply prefer to rent or buy a gently used pre-owned dress.
They offer normal wedding dress rental services at N35, 000 and above. They dry-clean before and after use. All an intending bride does is pick up the dress, use and return it. The dresses they rent out are pristine and no one but the bride will know they are rented. - Culled from The Sun.