Ebonyi earmarks 40, 500 hectares of land for rice production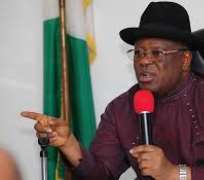 The Ebonyi State Government has earmarked 40,500 hectares of land for rice cultivation this farming season.
Governor David Umahi, who on Sunday restated his government's commitment to revolutionize the agricultural sector, added the state had procured 40 tractors to till the land and make it easy for farmers to plant rice.
Addressing a mammoth crowd during the Democracy Day celebration and his one year in office at the Abakaliki Township Stadium, he explained that    40,500 hectares are spread across the 13 Local Government Areas of the state.
Each of the LGAs has 2,500 hectares mapped for the rice production while IFAD has six thousand hectares and FADAMA, 2,000 hectares.
Governor Umahi said, "We have 2,500 hectares of land in each of the LGAs. And we have 6,000 of farmland in our partnership with IFAD. We also have 2,000 hectares of land in our partnership with FADAMA. These are all for rice production."
Engr. Umahi informed Ebonyians that as part of the measures to revolutionize rice production in the state, his administration had taken delivery of the three rice parboiling machines procured by the previous administration in the state.  
He added that the installation of the parboiling machines at the three state-owned modern rice mills in Ikwo, Izzi and Oso Edda had commenced.
The governor noted that the   government was partnering   UNIDO to install another modern rice mill  that  would be handed over to the Abakaliki Rice Millers when fully installed.   
 He assured that the N 2bn   Federal Government Loan for rice production was intact and would be disbursed to genuine farmers who met the conditions attached to it.
Engr. Umahi further stated that the government would give out seeds, fertilizer  and chemicals worth over N 400m to farmers as loan this farming season.
He also disclosed that the government had signed an agreement with   Union Dicon  Salt Plc  for the establishment of a cassava farm  and a cassava processing factory in the state.
Engr. Umahi  hinted that his administration   had introduced school agriculture, and was   currently working on three schools as pilot farms   in each of the three senatorial zones.
The governor stated that  all the available land at the permanent site of the state university had been converted to tomato farmland  for   massive production of tomatoes for domestic and international consumption.