Enugu CP talks tough on crime control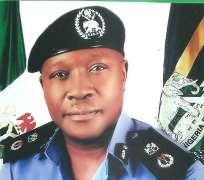 The Enugu state commissioner of police Emmanuel Ojukwu has spoken tough on the need to reduce crime and criminality in the state by ensuring that communities and environment are made safe and secured.Ojukwu made this known on 9th of May, 2016  at the state police Headquarters Enugu on the occassion  of his maiden address of  Area commanders, Divisional Police officers and other Heads of Department in the command.
He however expressed sadness  over the recent loss of lives and properties at Nimbo in Uzouwani Local Government Area of Enugu state and revealed thata high powered investigative team has been dispatched by the Inspector General of Police Solomon E. Arase to unravel the remote and immediate causes of the incident and noted that any person found to have been directly or indirectly involved,will face the full sanctions as stipulated by the law.
The commissioner of police, having analysed the security situation  in the state,warned all officers and men to shape up or ship out while he also admonished them to live up to their responsibilities of rendering quality service to the people of the state.He advised officers to embrace the full tenets of community policing which include partnership,openness,accountability and respect for human rights and to work assidiously to restore public confidence.The commissioner of police however warn in strong term that he will not accept excuses for fairlure to deliver while warning criminally elements in the state  to change from their evil ways as the command has mapped out robust crime preventive strategies to flush out criminals from the state.