I'M VICTORIOUS !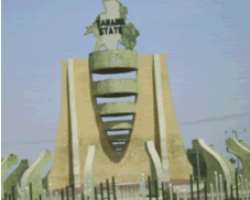 Roadblock roundabout
The city of Jalingo is a mixed bag. Here, modern edifices mix-match with thatched huts. Cattle and human traffic coalesce and flow in rhythmic harmony. The original dwellers of this city in north west of the country are a mélange,cocktail of 40 ethnic groups. In this place, even the earth is confused.
It is not sure of what it wants to create: craggy rocks, hills, mountains, rainforest or desert. The stretch of Taraba State is signposted with mountainous and scenic landscape. Ask the indigenes , these common features are both a blessing and a curse. Buried in the entrails of the hills and mountains are mineral resources, uranium, gold, barites, limestone, lead, zinc, graphite, bauxite, feldspars, galena, fluoride, calcite, iron ore, gypsum, quartz pyrite, talcum, kaolin, gemstones and clay. The drawback, a big time farmer in the state, Alhaji Nguruje said, is that those humps disrupt farming. 'The rocks and hills are barren and therefore of no use to us farmers .You visitors like them but no farmer wants them on his land', he said.
Taraba State was created about 19 years - August 27, 1991. The military administration of General Ibrahim Banangida carved the state out of former Gongola State and made Jalingo its capital. The state, Sunday Sun learnt derives its name from a river, Taraba River which runs across the southern part of the state.
Mother Nature's gift
Taraba is not a monolith. Its mineral endowments, agricultural and tourism potentials are Nigeria's common heritage. The state stands out by the simple fact that four major rivers feeding River Niger flow from its hills. Rising from Cameroon mountains, River Benue, Donga, Taraba and Ibi run through the state and take a southward plunge into River Niger.
Located in one of the state's 16 local government areas, is the biggest conservation in West Africa, Gashaka Gumti National Park. The local government also boasts of an array of solid minerals.
Complimenting this treasure trove, is Mambilla Plateau. Blessed with a temperate climate, Mambilla is like another country. It remains the most physically stunning part of Nigeria. To behold this vista, a visitor must scale 1,800 meters (6000ft) above sea level. The rough, rolling hills begin to recede and flatten out to a horizon-spanning farms. Sunday Sun learnt that some of the nation's ex-heads of state, top military brass and businessmen own resorts and ranches there. The highly demanded Highland Tea is produced and packaged there. This border town with Cameroon also produces coffee, apple, cocoa, kola nut, timber and other cash crops.
The rise of Jalingo
The city of Jalingo began making history way back in 1892 when the seventh emir of Muri, Alhaji Abubakar Mohammed Nyar made it his emirate headquarters. According to Alhaji Abu Sani Kona, a permanent secretary in the state's Ministry of Youth and Sports, the land was a Konaland until Fulani jihadists from old Muri emirate took it militarily.
Then the place perhaps had a name which has long gone into oblivion. The new name, Jalingo, Sunday Sun found out, is a Fulani word declaring victory. 'By 1892, after storming Kona, the emir believed he had overcome the people of the old Muri emirate he left behind, the people of Barkundi, Gashuk, Kona. And he shouted: 'I am victorious!' - Mu Jali Kona, mu Jali Muri, Mu Jali Kumbi. So, that's the essence and meaning of Jalingo', said Alhaji Habu.
As the oral history of the place goes, the Kona people who earlier occupied the land were at loggerheads with the Mumuye tribe. When the jihadists came into the scene, the Mumuyes pitched their camp with them to fight the Kona tribe. After several deadly battles, the Kona people were beaten. The jihadists destroyed their shrine and built a mosque in its stead. The mosque later transformed to the city's central mosque. The palace of the emir stands close to it.
Indeed, Jalingo city has come a long way. It grew from a war camp to the headquarters of the Muri Emirate. When the British colonialists took over, they made it Muri Province headquarters. A while later, they made it a divisional base of the region. While under Gongola State in 1976, it became a local government headquarters. The place remained so until 1991 when it became the state capital of Taraba State.
Double crown
The historical and political relevance of Jalingo is further accentuated by doubling as a local government headquarters. Spread into 16 wards, the dominant tribes in the metropolis include Fulani, Mumuye, Kona, Jukun, Wurukum, Kuteb and Chamba. Tribes from the southern parts of the country – Igbo and Yoruba- also have a strong presence. Sunday Sun learnt an Igbo man is even a councilor in one of the wards.
Of course, its status has made it the focal point of business and socio-political activities in the state. The situation has thrown up a challenge for the state and local governments to provide social amenities for the teeming population of Jalingo city. Though a bit belated, Jalingo is striving to create centres of excellence. Institutions like the state university, Taraba University, School of Nursing and Special School for gifted children are sited there.
Until December last year, residents of the city told Sunday Sun the city and entire state was in darkness for 18 months. Mrs. Marther Ibeh, a beer parlour and restaurant owner at Roadblock Round-about, said she had to borrow money from her town union to buy a small generator for her business. 'Since there was no NEPA (now Power Holding Company of Nigeria, PHCN), I decided to borrow and buy a small generator to keep food and drinks fresh for my customers', she said.
The completion of work at a PHCN's 132 KVA transmission and sub-station located at Mile Six, Jalingo has made the difference. Sunday Sun heard that the sub-station was initially meant to be part of the 330 KVA Mambilla Hydro Electric Power Transmission Station. The administration of General Olusegun Obasanjo started the project in 2001. The project lingered ad-nauseam until the incumbent governor, Danbaba Danfulani Suntai moved in and changed the trend.
The light supply in the city is augmented with solar powered street lights. Before the completion of the transmission sub-station, dispensaries and clinics at Turaki 'A', Nyabun Kaka, Nukkai, Abuja Phase II, Mafinda and Yelwa Kisam ran on solar power. At night, the major thoroughfare of the city, Hammaruwa-Barde Way, comes alight and alive.
Life in the city has also received a boost with the siting of an ultra modern, multi-billion market along Yola Road. Jalingo also has a functional airport at Jauta. To run the airport effectively, It was learnt the State Government incorporated a new company, Taraba Air and operates a charter flight. With two planes, a 13-seater with registration number D0228-N-DOB and 32 -seater with registration number D0328-5N-DOZ, the company works in partnership with a Kaduna-based airline, Dana Air. It was also learnt the state government recently sent some students to be trained as pilots in South Africa.
Serenade
The city of Jalingo is dotted with hotels of different rates and class. Located close to the Government House, the state owned Taraba Hotels readily beckons on visitors. Unlike most state-owned hotels up North, the hotel has a soft, liberal mien. Assorted alcoholic beverages are stocked and sold. It also parades a large outdoor bar for parties and cocktails. And all night, lodgers are serenaded with soft-tempo hits.
A guest can doze off for a while in his room and wake up in the A.M hours and go to the bar and catch some fun. The bar serves fresh fish chicken and goat meat pepper-soup all night long. A top management staff of the hotel who is press-shy disclosed that the sprawling structure was constructed by a Benue State-born musician and builder, Bongos Ikwue.
To attract customers, the hotel knocks off 10 percent discount for lodgers at weekends. This explains why the hotel is usually fully booked on such days.
People make early reservation from Wednesday. Adamu Ardo, a businessman told Sunday Sun he likes the hotel for its location, security and services. 'The workers here are good and friendly. When you call the laundry, they will quickly collect your clothes,dry-clean and return them to you. They also try in their cooking', he said.
Kudos should actually go to Mohammed Adamu Jalingo, the Managing Director and CEO of Amazon Integrated Service Limited, who this reporter learnt, supervises the hotel. The place at some point, was almost run aground until he stepped in. Described as a shrewd businessman and investment guru, Mohammed also manages a micro-finance outfit which gives soft loans to farmers and traders.
As the name, Amazon, implies, small and medium scale businesswomen are the focal point of this micro finance credit scheme. In an interview with Sunday Sun, he said: 'Like Dahommey female soldiers of old, women in business are warriors. They are always the ones I see struggling to make ends meet. So, I thought of it and decided to encourage them with a small, soft repayable loan. The company has helped over 11,000 people and more than 90 percent of them are women', he said.
He further revealed that Amazon has 21 branches in the state, and has disbursed more than N400 million. Amazon is at the moment helping NAPEP to disburse its own loan. 'Even in remote places, where there's no road, we are there helping. At times we go by canoe. Beyond the small interest we charge on the loans, we take the risk because we feel concerned. The poor women around you need a little help to get on in life', he said.
Located in an arable land, Jalingo and its environs produce a variety of fruits and vegetables. The state's soubriquet, 'Nature's Gift to the Nation' is quite apt. On the streets and public places, vendors come to you with wooden carts laden with fruits. Coming from Lagos where they are no fresh mangoes in the early month of March, it's quite a feast to see a lip-smacking variety of the fruits on display. The showcase is complimented with large cherry-red water melons, bananas, apples, pineapples, lemons and oranges.
Some of the mobile vendors deal in fresh vegetables. At a time when you can hardly get or buy some of the vegetables without breaking a bank vault in the cities down south, a platter-full of fresh vegetables like egg plants, green beans, cabbage, lettuce, onions, carrots and tomatoes goes for as little as N50. Mallam Aminu, one of the vegetable vendors traversing the city said through an interpreter that money should not debar anyone from buying and eating vegetable.
'I can sell for any small amount. If you come and beg me, I can give you some for dash. Allah says we should help the poor', he said, sounding generous and pious.
Pleasant souls
The indigenes of Jalingo are genial. Unlike in sprawling, rowdy, impersonal big cities, people can still stop for a stranger, give him water and help him. When familiar people meet on the street, they stop, tarry for a while, smile and laugh and greet each other lavishly. At times, the greetings get to the ridiculous point of clownishness. But to them, that's life. In a way, they seem to be saying that nothing is too serious not to be joked about in life.
The people's openness and receptivity to strangers is amply illustrated by the way the Nigerian Union of Journalists chairman in the state, Lynn Adda received this reporter. Immediately our correspondent told him the reporter was in Jalingo,he quickly called him, met him in his hotel and volunteered to take him wherever he wants to visit in the state.
The chief press secretary to the state governor, Hassan Mijinyawa, and his deputy were also very warm and helpful. They made calls and even booked interviews for the reporter. Hassan made the reporter feel at home when he took him to his house for a sumptuous lunch of rice and fish stew.
The people of Jalingo have distinct facial marks: three scarified strokes on both sides of the face. The marks, Sunday Sun learnt is for identification. In the days when slaves raiders were around, Alhaji Habu, the permanent secretary in the Ministry of Youth and Sports, said the marks prevented people from being captured and sold by their own tribesmen. 'At a time in the past, it was believed the marks could ward off meningitis,' he said.
Apart from the Fulani stock who are mostly fair in complexion because the Semitic blood flowing in their veins, other tribes are largely dark. Their dark tan can be attributed to the intensity of the sun in the city. To put it another way, the people are baked hard and dark in the furnace of the intense sunshine.
The young men and women in the city strive to get by. At Sabonlahi area, Ezekiel Yusuf and Ishaku Ahmed are business and technical partners of modest means. Ezekiel, 30, in his younger days was apprenticed to a man in Benue State melting iron scraps and moulding iron pots. Without a formal education, he remained steadfast to his master for four years and learnt how to do it.
He is now on his own. He later brought in a childhood friend , Ishaku, 23 and taught him the craft. Now they both work together and produce up to 50 pots in a day. The biggest size of the pot sells for N9,000, medium goes for N4,000, while the small one sells for N2,500.When Ezekiel and Ishaku are in the foundry melting iron scraps and moulding the pots, little Suleiman Sani, 13, and other apprentices file, clean the pots and attend to customers.
The city's spirit of enterprise is also typified by Sale Birimisa's survival strategy. The 35-year-old local musician was a lonely herdsboy in the grassland of his remote village at Gumi. Loneliness of the open grassland made him to construct a one-string guitar to play and sing to kill loneliness and boredom when he is roaming and grazing cattle. He was a mere 10 -year- old lad then. It wasn't long, before people began inviting him to perform at events such as weddings, burials and so on. He learnt the ropes by twanging out folks and religious songs with his string guitar.
He has added more strings to his home- made guitar and can now compose and sing for a fee on special occasions. At the NUJ secretariat in Jalingo, Birimisa and a friend who now accompany him with stringed calabash are always around in the evenings, entertaining people with ribald songs and jokes. He is married and has children. Asked the number of his children, he jokingly said: 'There can never be more children in my house than the number of my guitars'. He said this through an interpreter. He only communicates in a smattering of Pidgin English.
Beautiful feathers
The main roads like Hammerua - Barde, Roadblock and others are tarred, lit and cleared of refuse occasionally. But not so in the inner streets.Most of the roads are untarred and strewn with garbage.
Worse still, the streets have no proper sewage system. At Sabonlahi area, fetid, odoriferous water sip out and flow on the road. With no law forbidding the raising of domestic animals like goat, sheep and cow in the city, these ruminant creatures share the streets with human beings. Their urine and dropping combine with faecal waste and emit choking ,unbearable stench. The state governor, a pharmacist by profession, should tour these inner streets with his commissioners. The governor of the state, Danbaba Dandulani Suntai likes working the crowd.
He was in his elements at a recent state sports festival held at Jolly Nyame Stadium, Jalingo. Touted as a man of the people, when Igbos in the state had their end of the year bash in December, Sunday Sun learnt he was there, and even launched their 2010 almanac with N500,000.He has also received one of the Niger Delta ex-militant leaders, Chief Government Ekpemupolo, AKA Tompolo in the Government House in Jalingo.
It was gathered the governor pleaded with Tompolo and his boys in the creeks to accept the Federal Government's amnesty programme. But with 2011 by the corner and the governor's desire for a second term, keen observers in the city say he needs to mend fences with his predecessor and godfather,Rev. Jolly Nyame. Sunday Sun learnt their face-off has polarized the ruling party in the state, the PDP. His press secretary, Hassan thinks the matter has been blown out of proportion by the media.


•Suleiman scraping new pots
Fallacious discovery
Hassan is further miffed by news reports that a pre-historic, naked people, the Jibu tribe, has been discovered on a hill in a remote side of the state. 'Nothing can be more fallacious than this. They have been paying tax to the chief of Gashaka over the years.
They even have a member in the House of Representatives. How can anyone make this type of erroneous claim?' he asked. To Hassan, the people consciously decided to stay up the hill for cultural reasons. 'People go up there to buy and sell with them. Some of them wear clothes and come down to interact with people downhill. They have relations even in this Jalingo. You can go and find out', he said.
Future foretold
Asked the future of the city, Abubakar, the permanent secretary, waxed philosophical. 'The ancient walls around the city are no more there. Light is now shining through, and so are things within every facet of our lives'.