NASARAWA UTD VOWS TO FIGHT TILL LAST DAY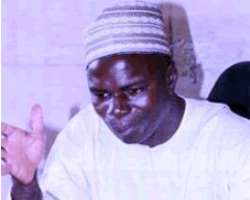 Adamu
After recording two wins and a draw in the last three games it has played, officials of Pro-League Division One side, Nasarawa United, have resolved to step up the tempo in their bid to secure the much anticipated promotion to the Premier League.
The Lafia-based outfit had been grappled with big challenges since it was relegated from the elite league to the lower division at the end of last season. The woes that engulfed the 2007 CAF Champions League campaigners, came to a climax earlier this season when it was debarred from further participation in the league after Week 5 due to its inability to settle its players' wages from the previous season.
However, there appears to be a new lease of life for the club with the appointment of Hon. Danlami Awaje as the new commissioner for sports in the state of the 'Solid Miners'.
Barely few weeks after his appointment, Hon. Awaje was able to trash out all the knotty cases that pitched the club against the Nigeria Football Federation (NFF), which in turn paved the way for the club to resume playing its matches in the league.
In its first rescheduled game decided penultimate Wednesday, Nasarawa United defeated Mighty Jets of Jos 1-0 in Lafia. Three days later, the team travelled to Jalingo and held Taraba United to a goalless draw. In its third game, it equally piped Taraba United 1-0 in the reverse fixture played at the Lafia Township Stadium last Wednesday.
Having secured seven points in its last three games, Hon. Awaje, who is seen as being instrumental to the club's improved fortunes in recent times, reiterated the club's determination to consolidate on its impressive results so far.
While thanking Governor Aliu Akwe Doma for the prompt attention he has shown to the promotion ambition of the club, the commissioner revealed that the players and coaching crew would be motivated to fight for every game with all their might until the last day of the season.
'Before I came on board, things were really terrible at Nasarawa United and that was why I decided to confront the challenges headlong. I thank God that with the support and understanding of His Excellency, Governor Aliu Akwe Doma, we were able to get NFF's nod to resume our matches.
'Our ultimate target is to return to the Premier League. We know it's not going to be easy because we have a lot of outstanding games to play, but we will do everything to motivate the team for the tasks ahead,' Hon. Awaje said.