Illegality Of Governor Ayo Fayose Ban Of Open Grazing In Ekiti State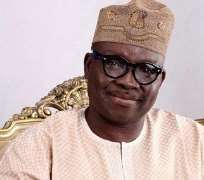 Just this morning, news broke in the media of Governor Ayodele Fayose verbal pronouncement of ban of herdsmen from open grazing of their flock in Ekiti state in reaction to the recent attack on a community in Ekiti state by alleged Fulani herdsmen which resulted in loss of lives, injuries and destruction of properties in a similar pattern to the ones that took place in Agatu in Benue state, Nasarawa, Enugu and some other states within the Federal Republic of Nigeria.
While we condemn in strong terms, the criminality and havoc wrecked on innocent Nigerians with its attendant physical and psychological effects and call on the security agencies to rise up to the occasion by performing their constitutional responsibility of ensuring safety of lives and property by preventing future attacks through improved high tech surveillance and apprehension of the criminals to face justice, it is important to admonish that whatever action is taken to combat criminality, must be carried out within the ambit of the law, in as much as we are operating a constitutional democracy and are not in Thomas Hobbes hypothetical state of nature, where might is right.
One is aware that in a democracy there are three arms of government with distinct and coordinating functions. The imperative need for the three arms in a democracy is to prevent tyranny and abuse of power by any one arm since they are subject to checks and balances by each other. In a democracy, the executive presents a bill which can only become a law if passed by the legislature and it is the duty of the judiciary to interprete such laws.
One is aware of some persons already commending Mr. Ayo Fayose for this line of action as a means of curtailing the menace of alledged herdsmen attacks which is a threat to national security and a violation of the right to life and own property as enshrined in our constitution.
But the question we need to ask ourselves is that, is this course of action lawful by being subjected to law making procedure and presents us in good light before the comity of nations as civilized people? The obvious answer is No.
Therefore in view of the above understanding of the operations of the constitution, it is crystal clear that the action of Mr. Ayo Fayose, no matter how well intentioned, amounts to illegality and does not exist in law because he has usurped the constitutional functions of the legislature which is on making of laws.
If Governor Ayodele Fayose is indeed serious and not grandstanding as usual on this line of action which is an illegality, it behooves on him to send a bill to that effect to the Ekiti state house of assembly to do the needful.
Thanks.
Nelson Ekujumi
Disclaimer:

"The views/contents expressed in this article are the sole responsibility of

Nelson Ekujumi

and do not necessarily reflect those of The Nigerian Voice. The Nigerian Voice will not be responsible or liable for any inaccurate or incorrect statements contained in this article."