Federal Government's Blunder In Tackling Separatist Movements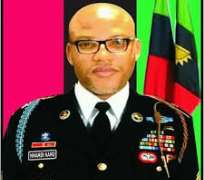 The President of any country, the Governor of any State, the Leader of any Organization does not have the monopoly of knowledge to address issues in the course of leadership. Any wise leader who wants to succeed should preoccupy his or her self with receiving sound ideas from others on governance and development otherwise the reverse will be the case. The agitation for the creation of a Separate Republic of Biafra from Nigeria which has now aggravated to agitation for the creation of a Separate Niger Delta Sovereign State is a central and burning issue in Nigeria's public domain today.
If the unity and corporate existence of Nigeria will be sustained, wise steps based on sound ideas should be taken by our leaders to resolve the issues that led to these vociferous and separatist agitations. But if our leaders keep advertizing ignorance, committing blunders here and there and refrain from resolving issues that led to these bitter agitations, surely the break-up of Nigeria may be imminent. It was Prof Taofeek Ladan, an erudite scholar in Law who stated that conflict resolution is all about addressing the root causes of the conflict and resolving these causes through the establishment of justice.
There is no way the agitations for separate countries by South-East and South-South activists will be eliminated without first and fore-most resolving the major issues in their agitations. I once wrote and published an article titled "PMB Voodoo Theories and Resurgence of Biafra" where I cautioned against the use of military might against the agitations.
I picked holes in some of the negative theories adopted by PMB in addressing the agitation for Biafra which include Vindictive and Exclusion theory involving the punishment of Ibos for not voting for Buhari and which of course sparked off the renewed agitations; the Underestimation and Under-Rating Theory where PMB dismissed the agitation for Biafra as a non-threat; the Non-Negotiability of Nigerian Unity Theory where PMB argued the separatist matter cannot be discussed which I knocked off with the referenda for separate countries in areas like Southern Sudan and Scotland and Solidarity Theory for Palestine Liberation Organization where PMB supported PLO's movement which I argued was a signal to separate movements in Nigeria to intensify their own struggles. Finally, I warned Nigeria leadership that if the right steps were not taken, the agitations would catapult to Notoriety.
As I predicted, the agitation for Biafra has intensified despite the extra-judicial killings of Biafran agitators. To worsen the matter, the Niger Delta Avengers (NDA) an armed militant group has threatened to declare a Sovereign State of Niger Delta in October 2016 if their demands were not met.
These agitations may continue to expand and worsen if Mr. President does not take the right steps to curtail them in the few days and weeks ahead, perhaps that is the way God wants it. Who knows? The igniting force of this article was a declaration by PMB in his home state of Katsina that "I am ready to fight back to defend the country from those agitating for the creation of Biafran State, even if we will get drowned".
PMB further states that the current agitators for Biafra were not born when Nigerian fought the internecine conflict where over 2 million people were killed to keep Nigeria one and united. He vowed that his government was ready to fight again if need be to secure the unity of Nigeria. Before now, the Federal Government had ordered the military to crush the agitators which was why many peaceful protesters for Biafra had been allegedly killed by Nigeria's military.
Similarly, the Federal Government had reportedly ordered the military to crush the armed members of Niger Delta Avengers threatening the secession of the oil rich region. That Katsina declaration tends to portray Mr. President as a great patriot who is committed to the oneness, unity, indissolubility and indivisibility of Nigeria.
Mr. President further promised to ensure justice in the country. How can Mr. President guarantee the unity of Nigeria when his policies and programmes are highly discriminatory which make some parts of the country feel as if they are second class citizens?
The agitators for separation feel their regions are oppressed, enslaved, maltreated, imprisoned, and unfairly treated for too long in Nigerian project. To many analysts, that declaration in Katsina soil was like an ethnic conspiracy to establish the superiority of one ethnic group over others and to crush the ethnic groups classified as inferior in Nigerian Project.
This resulted in vitriolic responses by some groups against Mr. President. The use of military to crush agitators for justice in Nigeria is counterproductive and the resort to war to overcome the agitation is a blunder. In the case of South-east, the agitators are peaceful, non-violent and not armed. How can a government which is preaching for peace and unity unleash organized violence against its non-armed citizens?
War is usually the last resort when all avenues of dialogue and peaceful negotiations have failed. In this context, Mr. President is introducing war as the first resort without any form of dialogue and peaceful negotiation and this is why I refer the use of war here as a blunder. The so-called Nigeria-Biafra war which Mr. President and past leaders like Gowon and Obasanjo are always talking about was preceded by intensive peaceful dialogue.
The Federal Government should equally realize that the use of military could not quench the former armed militancy in the Niger Delta region until Late President Ya' Radua graciously introduced the Amnesty Programme. One fact to be noted is that these agitations are spiritual, psychological, socio-cultural and historical, which explain why the agitators are daring, bold, courageous and non-relenting in their struggles.
Nnamdi Kalu, the leader of Indigenous People Of Biafra (IPOB) who is being incarcerated in the prison declared that he preferred death to renouncing Biafra. Most of these young men and women who did not witness the Nigerian-Biafra war and are currently agitating for Biafra grew up and witnessed hatred, injustice, oppression and wickedness by Nigerian state against their people.
If Nigeria will remain united as Mr. President has vowed, it should be operated on sound principles of equity, justice and fairness and compromising these principles will pronounce doom on the unity of the country. President Buhari should reposition himself so that every Nigerian particularly the aggrieved groups should see him as the true and caring father of all. Henceforth, his policies, programmes and projects should not be selective and discriminatory. The current marginalization and alienation of the Ibos in his government because they did not vote for him should cease.
The Federal Government should set up a high powered team made up of detribalized and bridge building Nigerians to study, negotiate and dialogue with these agitators so that sincere and implementable solutions can be applied to the agitations. Mr. President should stop supporting secessionist bids of Western Sahara and PLO because it is giving wrong signals and fuelling bid for self-determination in Nigeria.
Ideas rule the world. Mr. President should select six academically and ethically sound Professors of political science from each of the six geo-political zones to a brain-storming meeting so that pragmatic solutions can be brought out and applied to these agitations. Mikhail Gorbachev midwived the peaceful disintegration of former United USSR into separate countries. Why do we always think that the forceful marriage called Nigeria that is bringing so much pains and agony is the best for us?
Comrade Innocent Ebirim Okadigbo (Mkpisi Edemede)
a Pro-democracy activist and Media Practitioner writes from Abuja via [email protected]
Disclaimer:

"The views/contents expressed in this article are the sole responsibility of

Comrade Innocent Ebirim Okadigbo (Mkpisi Edemede)

and do not necessarily reflect those of The Nigerian Voice. The Nigerian Voice will not be responsible or liable for any inaccurate or incorrect statements contained in this article."