Stranger, Lagos Launches The First Maker Library In Nigeria Supported By British Council Nigeria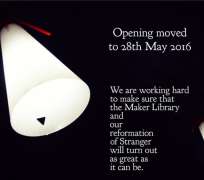 This May we launch the first Maker Library in Nigeria at Stranger, Lagos. Maker Library is a British Council initiated model that supports the creation of unique networked spaces to allow designers and makers connect with each other and allow them the use of a makespace, a gallery and a library, connected via an online platform.
Stranger, Lagos, which started out as a concept boutique that stocks many alternative international and local fashion designers, will through the grant open up a co-working space for makers living in, or passing through Lagos.
Yegwa Ukpo, Creative Director, Stranger Lagos expressed his excitement at being the pioneer Maker Library in Nigeria saying:
"We were inspired to open Stranger, so that we could share our ideas and interests with others. As the first Maker Library in Nigeria, we are thrilled to have this opportunity to work with makers from all over the world to fulfil the global Maker Library Network goals of providing a space where our makers can swap skills, share resources, exchange ideas and take part in mentoring sessions."
"The Maker Library Network is an initiative which started out in the South Africa, in partnership with Daniel Charny and From Now On in collaboration with the British Council connects designers and makers internationally," said Ojoma Ochai, Director Arts, British Council Nigeria while presenting the grant. "We are pleased to be partnering with Stranger, Lagos to impact the creative space because not only will this create more opportunities for creatives and entrepreneurs it will also encourage collaboration."
The Makespace will be launched on May 28 in Lagos, and we are inviting artists and the people who love their work to be a part of the grand opening. Following the launch in Lagos, House 33, will be opened as the first Abuja Maker Library in June 2016 also supported by the British Council Nigeria.
Maker Library is part of UK/Nigeria 2015–16, a major season of arts in Nigeria aimed at building new audiences, creating new collaborations and strengthening relationships between the UK and Nigeria.
About UK/Nigeria 2015–16
UK/Nigeria 2015–16 is a major season of arts in Nigeria aimed at building new audiences, creating new collaborations and strengthening relationships between the UK and Nigeria. Programmed in association with a host of partners, it features more than 30 projects and more than 80 events in art, fashion, design, theatre, dance, music, literature and film throughout Nigeria and includes showcases of Nigerian arts and creative industries in the UK. UK/Nigeria 2015–16 has a focus on creating access to art, new digital work, innovation, and art in public spaces working with young people.
Partnerships between Nigerian and British artists, institutions and organisations will be at the heart of the season which aims to develop skills and capacity across the creative industries. The programme creates new connections in arts, education, innovation, trade and investment.
About Red Media Africa
Red Media Africa ( http://www.redmediaafrica.com ) is the PR & Empowerment Marketing division under the parent brand, RED.
It focuses on using inspiration, empowerment and action to help brands and organisations connect with their audiences, enhance their bottom-lines and lead in their industries.
It has 6 major practice areas: Corporate Practice, Technology Practice, SME Practice, Governance Practice, Faith Practice and the International Practice - with work for brands across Nigeria, Ghana, Kenya and South Africa. RED owns the continent's largest portfolio of youth media brands.
Its Content Division holds brands across TV, radio, online and events including Y! Magazine,YNaija.com, Rubbin' Minds, #YTech100 and the The RED Summit. It also anchors a development firm, The Future Project, which projects include Africa's leading youth platform, The Future Awards Africa, HowCanIGetInvolved.com and Aiki.ng, which is run in conjunction with Microsoft.‎