ATIKU CARRIES FAKE REGISTRATION CARD – ADAMAWA PDP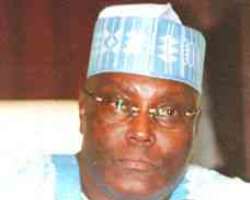 The Adamawa chapter of the Peoples Democratic Party (PDP), yesterday, insisted that the former Vice President, Alhaji Atiku Abubakar remains a stranger in the party, as he has not registered with the state chapter of the ruling party.
Addressing newsmen in Abuja, the Adamawa State PDP chairman, Alhaji, Umaru Minjinyawa claimed ignorance of the former VP's reabsorption into the party. The State Chairman dismissed the registration card showed to journalists by the former Vice President on Tuesday in Abuja.
But the former Vice president in a statement issued by his media aide, Garba Sheu dismissed the claim of the state chairman, Alhaji Minjinyawa, as unfounded
Atiku disclosed in the statement that he had fulfilled all constitutional requirements for re-admittance into the Peoples Democratic Party PDP, as he was duly registered by his Yeli Ward Chairman, Mr. Vitalis Njobdi (a.k.a. Kosa).
The statement read: 'Njobdi is recognized by the National and the Adamawa State Secretariats as the authentic chairman of Yeli Ward. This fact has not been disputed by the renegade faction in Adamawa State. The constitution of the PDP empowers the ward to register members'
Sheu disclosed further that when the former Vice President visited the national secretariat in Abuja, weeks ago, PDP National Chairman Prince Vincent Ogbulafor advised him to register in his ward.
'The former Vice President did exactly that on April 7, 2010. Anybody parading himself as Atiku's ward chairman, other than Vitalis is fake and should be arrested by the police.'
Atiku's spokersperson submitted that 'it will be an exercise in futility for some renegades in Adamawa State to claim they will not allow Atiku back into the party. Atiku is already back in the PDP and those cowards masquerading as his political opponents in Adamawa State must learn.'