BETWEEN AKPABIO AND HIS CRITICS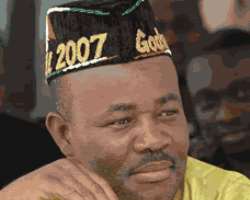 For some weeks now, the media has been inundated with numerous anti-Akpabio write-ups in form of letters and feature articles that have prominently found spaces in most national dailies in the country. Such articles usually purported to have originated from Lagos, Abuja, Uyo and some other Nigerian towns bear almost the same style, message and philosophy.
The main thrust of those concocted essays is nothing but a vehement attempt to pull down the name and well-earned image of the action governor of Akwa Ibom State, His Excellency, Godswill Obot Akpabio, and by extension his people-oriented administration. The entire exercise is an attempt to whittle down Akpabio's giant strides in the state within the last three years.
But such a propaganda is not novel considering the very fact that we are about to enter a crucial election season. Such a season in Nigeria's politics is characterized by mudslinging and character assassination of powerful political opponents to score some points. But in Akwa Ibom, such deceitful agenda can hardly stand in view of Akpabio's sterling performance, which can never be hidden.
Moreover, unknown to those behind the epistolary siege, Akwa Ibom people have so far acknowledged and appreciated the landmark achievements of Akpabio and his able team of energetic and result-oriented young men desirous to make a difference in the state known as 'The Land of Promise.'
Akpabio's resounding performance can explain the deluge of awards coming his way in recent times. Such awards do not come easily. They portray the recipient as deserving of them. There is no doubt that more awards are in the pipeline for the workaholic governor, who is eager and willing to deliver the democracy dividends to his good people, no matter what his detractors are saying in the media.
The amount of diatribe and character assassination coming from Akwa Ibom at this period is indeed not unexpected. At a time like this, many politicians would like to outdo others even if what they are saying lacks substance. Many deliberately want to cause confusion and create disaffection between the government and its people.
In this case, such antics cannot be effective. It cannot work in an administration that has been adjudged to be focused, transparent and development conscious. How can they work in a united and highly committed administration that is hungry to deliver political goodies to its people?
In spite of these false alarm raising essays deemed to have emanated from those fiercely opposing Akpabio's government, there are questions that are begging to be asked. What has Governor Akpabio done in the past three years of his administration? Can those achievements be seen and verified?
Has the governor done something that really deserved all the encomiums, accolades and awards heaped on him? Is Akpabio's high profile and soaring image a media creation or propaganda stuff to deceive the gullible masses? Why is the opposition so vehement and vicious?
Going by development strides in Akwa Ibom State since Akpabio assumed office, it is crystal clear that the opposition is just chasing the wind. Their drum beat of low performance does not reflect the realities on the ground. The truth is that Akwa Ibom under Akpabio is working and working very well to the shame of its detractors.
Available information on the state attests that Governor Akpabio is handling the affairs of Akwa Ibom effectively and creditably too. So far, the man of the people has placed the welfare of Akwa Ibom citizens first before any other thing.
According to the State Commissioner for Information and Social Re-orientation, Mr. Aniekan Umanah, the governor's approach to the governance of the state has been bold, decisive and methodical. What he has achieved so far lends credence to the assertion. Akpabio has not hidden the fact that he is in a hurry to develop the state. And he has a terrific speed. He has exemplified this through the numerous development projects he has done that have changed the face of the entire state.
This can explain too why the opposition has turned green with envy and decided to unleash venom and opprobrium where they are unnecessary. They have done so believing that it would undermine the good relationship Akpabio is enjoying with his people. But they have failed.
Though Akpabio has made tremendous impact in many areas in terms of execution of projects, let us beam our searchlight on a few sectors to buttress our point.
In the field of education, Akpabio has introduced the free and compulsory education in the state. In doing this, he has emulated the footsteps of the late astute politician, Chief Obafemi Awolowo. The government pays subvention of N100 per primary school pupil and N300 per secondary school student to cater for logistics and expenses in the programme for each child.
To ensure that this programme succeeds, government has rehabilitated many schools and equipped them with enough tools that contribute to effective and conducive learning. Government said that so far, it has spent over N10 billion on this vital programme.
Road is one sector in which Akpabio had equally recorded some laudable achievements. Prior to his assumption of office, various major roads, especially federal roads were in a very deplorable condition.
Such roads then included Afagha Obong-Etim Ekpo, Iwukem road; Abak-Ikot ekpene road; Nung Udoe, Itak-Use Ikot Amana road, Enin Nsit and Ikot Ekpene internal roads.
But today, the situation has been reversed and in keeping with his electioneering campaign promises, Akpabio has awarded contract for the construction of these roads. So far, over 205 roads covering more than 600 km have been constructed.
He has also awarded contract for Uyo urban renewal and regeneration project, dual carriage ways for all roads in Uyo and reconstruction of collapsed concrete bridge at Ikot Abiaenyie. The government has awarded contract for the construction of underground drainage for flood and erosion control in the state.
He has done much in agriculture to boost food production through its intervention programmes which include the accelerated livestock and fish production programme, integrated farmers scheme, Fadama and community based natural resources management programme. The list is not exhaustive.
He has recorded tremendous milestone in revenue generation and health care delivery system. He has practically touched all sectors of Akwa Ibom State.