Again, Fulani herdsmen sack community, kill 5 in Benue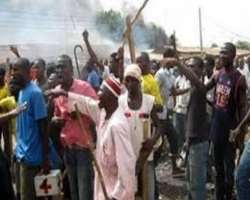 There was a renewed crisis at Agwabi community in Binev ward of Buruku Local Government Area of Benue State, leading to the killing of some people by suspected Fulani herdsmen.
gathered that the incident happened on Friday, leading to the sack of the community while fear has gripped residents of nearby villages, many of whom were said to have fled.
The state Police Command, however, disclosed that five persons were killed by the herdsmen.
It will be recalled that about eight council areas of the state had in the past been attacked by Fulani herdsmen including Buruku Local Government Area where the latest incident occurred.
One of the fleeing villagers who simply gave his name as Aondoaver said the Fulani invaders stormed the village around 8.00 p.m. and started shooting, killing anyone they saw.
Asked if there was any problem between the Fulanis and the villagers in the area before the invasion, he said there was no rancour that could warrant attacking innocent people.
When contacted, the state Police Public Relations Officer (PPRO), ASP Moses Yamu, while confirming the death of five persons, explained that two persons died on the spot while three others died at the hospital.
Yamu, who said that the suspected Fulani herders struck the village in a guerrilla manner, however, noted that the Area Commander had immediately deployed police patrol teams to the area.
He disclosed that normalcy had been restored to the area and urged all fleeing members of the village to return home. – Sunday Tribune.