What Tinubu said on subsidy removal in 2012: Jonathan has betrayed the people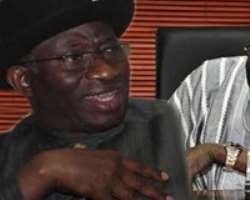 Asiwaju Bola Tinubu, Action Congress of Nigeria (ACN) national leader and former governor of Lagos State, has accused the Jonathan presidency of betraying its social contract with the people by suddenly removing fuel
subsidy.He, however, provided a window out of the crisis: if subsidy must be
removed at all, it must never be at one fell swoop. Rather it must be on
calibrated phrases, on which the promised gains are measured and confirmed
before moving to the next phase of removal."Government must modify the sudden and complete removal of the subsidy.
Either we restore the subsidy or use the funds for other social purposes,"
Asiwaju Tinubu counselled in a special release he captioned, 'Removal of
oil subsidy – President Jonathan breaks social contract with the people'
and which he personally signed.
"If we are to use the funds for other programmes, these programmes shall
be placed on parallel track with the subsidy. As more of these programmes
are ready to go on line, then the subsidy can be lifted in phases" he
continued. "In this way, the public is assured government will not lower
its total expenditure on their behalf, thus maintaining the spirit central
to the social contract."
But the former governor cautioned the federal government against economic
policies that tend to balance the books at the detriment of the people's
welfare.
"As there is progressive politics, there is progressive economics. As
there is elitist politics, there is elitist economics," Asiwaju Tinubu
explained. "It all depends on what and who in society government would
rather favour. The Jonathan tax," he declared, "represents a new standard
in elitism."
But the ACN national leader cautioned the president against being captive
to economic orthodoxy and its local purveyors, who always look at the
Nigerian economy as nothing until when tied to the apron strings of the
conservative orthodoxy.
"Because he is slave to wrong-headed economics," Asiwaju Tinubu said of
President Goodluck Jonathan, "the people will become enslaved to greater
misery. This crisis will bear his name and will be his legacy. The people
now pay a steep tax for voting him into office. The removal of the subsidy
is the 'Jonathan tax'," he insisted. "The situation shows that ideas count
more than personalities. People may occupy office but how that person
performs depends on the ideas that occupy his mind."
Insisting that the subsidy removal was ill-timed, he said there must be
some conditions precedent before such a step could be taken.
"First government needs to clean up and throw away the salad of corruption
in the NNPC [Nigerian National Petroleum Corporation]. Then, proceed to
lay the foundation for a mass transit system in the railways and road
network with long term bonds and," he added, "fully develop the energy
sector towards revitalising Nigeria's economy and easing the burden any
subsidy removal may have on the people."
The former governor however counselled protesters to go about the protests
in a peaceful manner, and to eschew all forms of violence.
source: Pointblank