We are considering devaluation of naira: Osinbajo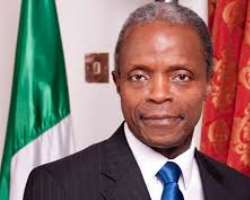 Nigeria needs a "substantial review" of its foreign exchange policies, including further consideration about devaluing the naira, Vice President Yemi Osinbajo has said.
Osinbajo's statement marks a shift in position by a government that has remained adamant on its managed foreign exchange policy, despite it creating a huge room for rent-taking and other forms of distortion to the economy long ravaged by corruption in both public and private sectors.
The  Nigerian economy is facing dollar shortages as oil revenue declines due to weaker prices and a drop in production to the lowest in more than 20 years.
President Muhammadu Buhari has resisted calls from investors and the International Monetary Fund to devalue the naira, which at the official rate has been pegged at 197-199 per dollar since March 2015. The black market exchange rate, which most businesses have been forced to use, is roughly 320 per dollar.
Former Minister of education, Oby Ezekwesili, recently criticised the managers of the economy for sticking to command and control method which Buhari unsuccessfully tried more than 30 years ago. She said that the policies of the current administration is hurting the economy and the ordinary Nigerians, the very people President Buhar claims to be protecting.
"It's clear that a strategy of demand management alone won't take us far," Osinbajo said at a conference in the commercial capital, Lagos, on Wednesday. "We need to address the issue of supply. We think a review is necessary. But I can't give a time."
The government is in talks about managing foreign exchange supplies with the central bank, which is entirely responsible for monetary policy, said Osinbajo. "Devaluation may feature" in the discussions with the bank, he said.
"There has to be a substantial re-evaluation of the foreign exchange policy especially with the view to increasing FX supply and capital importation," he said, adding that he's "confident" that measures can be put in place to "attract FX."
The government which will be one in office in a few days time has failed to make any significant improvements in the quality of lives of Nigerians as promised during electioneering campaign, except for the huge stride recorded in anti-corruption crusading.
With Bloomberg report