Men Don't Value Their Mothers- Susan Peters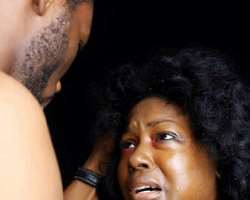 Since Nigerians woke up to hear the death of Ronke Shonde , a victim of domestic violence, a lot of women are speaking up. Nollywood actress Susan Peters who added her voice to the menace has drawn the thin line between life and marriage when it comes to physical abuse.
She has made it clear in a simple language that getting married to a woman doesn't mean that she should be turned to a slave "Being the head of the house in biblical sense does not mean the woman should be a slave, subdued to a lot of abuse all for the sake of wanting to be under a man's roof. Mbok! Woman. Know your worth. Know your value. And draw the line if need be. Be you because you are Woman!!! Most men don't even value the Woman who gave birth to them so why will they value their Woman? Well go figure"
Susan who recently revealed that marriage doesn't influence the role she plays and added thatwhen she was single men weren't coming, but now that she is taken, everyone wants her. She is happily married to her Dutch sweetheart, Dr. Koen in 2015. We hope that the men will listen to you and end this saga of beating their wives to death.