Are The Staff Of The Nigeria Football Federation In Trouble?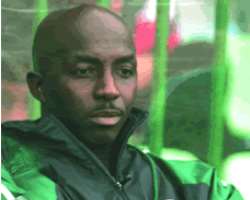 One of the administrative staff of the Nigeria Football Federation (NFF) said to me a couple of days ago, 'Ronke we don't even know what to do right now as Giwa plans to resume work on Monday.'
In actual fact, what's all this madness in our football, as I cannot find a better word to describe all this kerfuffle and power struggle. Can't we have a straight crisis-free footballing year? This is uncalled for and a resolution needs to be found ASAP.
It is obvious both warring parties have their loyalists in the media and within the NFF secretariat. Who suffer the most? – Undoubtedly, Nigerians in general but sports enthusiasts in particular, who deserve to know the truth but are deprived of facts.
Presumably, some section of the media declined to bring Chris Giwa issues to light, choosing not to report because Amaju Pinnick has 'settled' them and vice versa, what a confusion. Whatever happen to story balancing. I pity Nigerians who are denied of the truth.
Now speaking about the staff of the NFF, I am so concerned about them, when Chris Giwa resumes office on Monday as declared, will he be addressed as the NFF President? The secretariat is divided as many of them are sensibly quiet about where their allegiance lies, in order not to jeopardise their careers.
Of course some feel that the Pinnick led board is not carrying them along and would rather a Chris Giwa, while those who believe Pinnick favour them are thinking otherwise, lol.
What kind of life is this? I know they will be finding it difficult while each and every one of them will be watching the body language and reading lips.
We have the General secretary, his deputy, account, technical department and all of that. Please imagine this, who will treat the files on Monday? Who will the staff listen to and on whose order will they follow?
This is a gamble, Giwa resumes and ask a technical staff to brief him, for example, Aderonke please brief me on the latest development, what is Ronke supposed to do? Will she oblige and again in-case she disobeys and Giwa eventually emerges as the president, she will likely be victimized.
What if Pinnick also come to work tomorrow and we have a double President, what will happen?
Contradictions: The NFF said in a press release they have appealed a court judgement that sacked the Pinnick-led board, and recently, we heard there was o court judgement sacking the same board.
The NFF President as we know it thus far, is yet to make any official appearance since the extraordinary congress in Abuja.
So many things Nigerians do not know. Who will the NFF staff listen to on Monday. Chris Giwa or Amaju Pinnick?