Foundation Identifies Child Upbringing, Poor Value System As Factors Aggravating Crime In The Society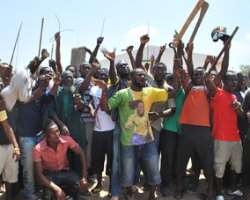 A non- governmental organisation, CLEEN Foundation has identified upbringing and childhood experience, poor value system, lack of transparency and accountability in our society as factors aggravating crime and criminality in our society.
The foundation made this identification during its one- day sensitisation workshop at Owaza Community, Ukwa West Local Government Area, Abia State. Other factors identified are inequality and greed.
The Programme Coordinator of the group, Ifeanyi Anyanwu in his paper titled" Conflict Management and Prevention Skills: Key Tools to Promote Peace and Security in the Oil Bearing Communities", explained that individuals act in line with what they experience as children both at home and environment.
He added that this factor aggravates crimes like sex related offences, drug abuse, gender-based violence, among others. "This is because they tend to see these crimes as a way of life or signs of maturity without considering the negative implications of these to themselves and the community they live in," he said.
According to him, the drop in the value system whether negativity are celebrated rather than rebuking them has failed the society.
"Society has failed us in that people are now being respected because of the material things in their possession rather than age, and what they can offer to the society. This has also affected our choice of leaders that we elect some people with criminal records to represent us at all levels because of the little change they gave to us during their campaigns. People now believe that the end product is money and that whatever you do to make money counts".
He said that the communities are in conflict as a result of competition over scarce resources;different interests, needs,objectives,perspectives; perception;rumours; exploitation;threatening position of power;and attacks on personal characteristics.
The participants identified positive child upbringing and experience, value reorientation, transparency and accountabilty, and intensive advocacy, especially among the agents of socialisation as measures of reducing the crime rate in the society.