Hypertension: Medical View Of It's Dangers On Human Health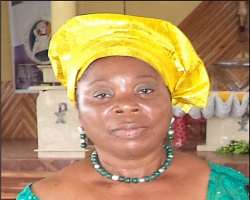 MRS. PHILOMENA.C. IBEH is a devout catholic, a mother and a high figure in the nursing profession. Her leadership role as the president of the Catholic women's Organization of her local church, St. james Catholic church Ilesa, Osun State, Nigeria, has motivated and encouraged the involvement of women in efforts geared towards the growth and development of the church.
Her annual enlightenment health talk have improved the lives of many families in the church and has informed and educated adults and youths on health related issues essential to their life and wellbeing. This year, on the 10th of April, 2016 during a Sunday mass and after the homily, she gave a fascinating informative and educative talk on the causes, prevention and cure of Hypertension.
In her talk, she defined and identified Hypertension as the most common human disease that brings about sudden and untimely death if prompt and appropriate medical care is not taken.
The predominant causes of Hypertension she said is based on the nature of the Food we eat, Stress, Obesity, Smoking, Alcoholism, High Salt intake, Kidney dysfunction and Excessive use or misuse of drugs.
She pointed out that people who take food with high fat or oil content are prone to Hypertension. Many fast food eaten in restaurants or home prepared food consumed by many people around the world particularly if Africa, contain a lot of oil and fats which takes time to digest in the body and they contain a high level of cholesterol and their constant intake gradually blocks the veins and arteries of the heart. She identified few fat and oil rich food items that must be avoided because of their high cholesterol.
She advised that adults above fourty (40) years of age must limit their intake of fatty food to prevent Hypertension. She stressed the need for routine medical checkup for women, their husbands and children to esure the entire family members are always in good health.
She related a life story of a woman and her husband who came to the hospital with their sick child. After treating the sick daughter, she personally approached the Doctor and complained she had headache and general weakness of the body.
The Doctor directed a nurse to take her blood pressure (BP), the reading was above normal and further medical examination conducted on her indicated that she had Hypertension. She was immediately admitted for one week and placed on hypertensive drugs and this saved her life as a mother and house wife.
Many people she said do not visit the hospital to check their BP or for routine medical examination until they are broken down, others visit the hospital at the terminal stage of their ailment when it may be too late.
She emphasized that people should make it a point of duty to always visit the hospital for B.P test at least once a month and for general medical examination of the body once every three months to ensure your health and state of mind."The BP and many other tests are free in almost all the government hospitals, " she said.
A man she said was transferred from a Lagos hospital to the State general hospital in Ilesa where she works and after a laboratory test, his cholesterol level was found to be above normal and his body sugar level was high. He was placed on drugs by the Doctor to lower the cholesterol level before it affects the heart.
Further in her talk, she stressed the adverse effects of "Stress" to the body and as a precausal agent of hypertension. "Whether we are engaged in home or office work, we need to rest our body and take time off work to refresh the body to ensure good health of our body," she said.
People obessed or over weight due to too much fat intake she said, are likely to have high blood pressure. She then advised obessed people to always keep fit with everyday body exercise. "People engage in physical exercise to burn off excess fat in their body to stay healthy," she said.
Smoking she said, is another primary cause of Hypertension. Cigarette smoking she explained is dangerous to human health and when the dark smoke inhaled gets coated to the walls of the lungs it adversely affects breathing and this may leads to death.
She reminded the congregation that alcoholism or excessive consumption of alcohol can also cause Hypertension. She warned that men should be careful about the brand of alcohol they take and must reduce their alcohol intake to prevent intoxication, restlessness and misbehavior that may endanger their health.
On the use of Salt, she said excessive salt in the body causes Hypertension. Salt she further stressed contain sodium chloride and this affects the body when we tkea it high quantity in the food we eat. The Kidney she said is an important organ of metabolism in the body. "a person with diseased or malfunctioning kidney have high risk of having Hypertension.
She essentially urged married women to be careful in the use of oral drugs or pills to prevent pregnancy or unwanted pregnancy as the case may be, as excessive or indiscriminate use of drugs in self medication can lead to high blood pressure, health complication or even death.
"It is save for couples to visit the hospital to know the type of birth control that will suit their purpose and you must only use drugs prescribed to you by the Doctor," she advised.
She shouted on all the women in the church, "Please when you are pregnant, do not just sit down at home, go to the hospital for antenatal care. Having" High blood pressure" during pregnancy is dangerous to the health of the unborn child and mother," she said.
She affirmed that Hypertension if not given immediate and adequate medical attention may lead to partial or permanent stroke which may deform the body and may greatly affect speech or movement of person affected depending on the type or nature of the stroke. Very small percentage of stroke patients she said survive to live normal life if they visit hospital quickly and if they use their drugs appropriately.
She identified the symptoms of Hypertension as Impaired Hearing, Loss of Vision, Diabetes, Bleeding Nose, Headache or General Weakness of the body. .
She concluded her talk with the strict warning that whenever any individual observes the symptoms of Hypertension, he or she must go to the hospital to see the Doctor, "prevention they say is better than cure," she said.
Disclaimer:

"The views/contents expressed in this article are the sole responsibility of the author(s) and do not necessarily reflect those of The Nigerian Voice. The Nigerian Voice will not be responsible or liable for any inaccurate or incorrect statements contained in this article."
Articles by Babatunde Joseph Oduntan