Armed Foreigners Armed And Deployed On Kampala Streets And Other Towns To Shoot And Kill Ugandans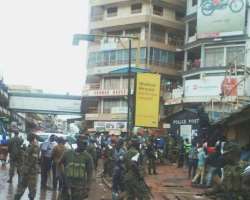 Pro-democracy elements within the Ugandan military establishment the Uganda People's Defence Forces (UPDF) have leaked information that Gen. Yoweri Museveni has deployed former soldiers from M23 and Salva Kiir fighters from South Sudan to crush the defiance campaign to reverse the sham February elections.
The foreign soldiers are deployed because some Ugandan soldiers have told their commanders they won't fire on or shoot and kill innocent civilians, according to the pro-democracy elements.
A Ugandan military spokesman denies the claim about deployment of foreigners within the military ranks to protect the regime.
"For anyone to say that to keep law and order in Kampala, we have to go to Congo and get the M23 --is laughable," said Maj. Chris Magezi , a UPDF officer and spokesperson of the Special Forces Command (SFC) an elite unit that responsible for the protection of the president, VIPs and other strategic installations in Uganda.
"I think those are just dreaming, M23 to be on the ground in Kampala, it's not true," Magezi said, in a phone interview.
The M23 is a Rwandan- and Ugandan-regime army renowned for its brutality against civilian population in the eastern part of DR Congo.
After U.S. President Obama called Rwanda's President Paul Kagame and warned him to withdraw M23, a U.N. special brigade of mostly South African and Tanzanian troops then routed the army. The soldiers fled to Uganda and Rwanda.
Since then Uganda has protected M23 leader Sultan Makenga, wanted for war crimes.
M23 was previously led by Bosco Ntaganda a notorious killer nicknamed "Terminator." He is now in The Hague facing charges of war crimes and crimes against humanity at the International Criminal Court.
Now elements in the Ugandan army sympathetic to the national defiance campaign claim M23 are mixed in with soldiers of the SFC, commanded by Brig. Muhoozi Keinerugaba, son to Gen. Museveni.
"Those people are trying to tarnish the image of Uganda. We do not have M23s on Kampala streets," Magezi said.
"Are they suggesting that Uganda cannot control the city?: Uganda doesn't need the M23s. This is our job and it's involving the Uganda police and the military police."
Asked why many of the deployed soldiers didn't wear the red beret typical of Ugandan military police, he said: "The attires do not matter, those are military police."
"We have the strongest force in the region, and we have been on several missions in the region. We are capable of controlling our territory including keeping law and order on Kampala streets," said Maj. Magezi, adding that:" Those on streets though didn't put on the red top, they are military police."
"I am not aware of any M23 patrolling anywhere on the streets Kampala or for that matter on any Ugandan territory," said Maj. Magezi.
When reminded of those M23 that crossed into Uganda and were received at Mgahinga National Park, near Uganda-DR Congo border after their Congo defeat, before they were relocated to secret places inside Uganda, Maj. Magezi said: "There were some peace talks; you can ask the Minister of Defense. But personally, I'm not aware of the M23 anywhere in Uganda."