Thank you For prayering for Tunji, myself and Jamil- Tiwa Savage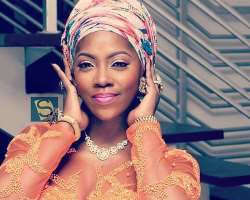 For the past two weeks, Mavin queen, Tiwa Savage has been trying to live each day with a ray of hope after her husband , Teebilz revealed their marriage is facing a hard time. When Tiwa later granted an interview that was controversial and damning, revealing all the demons in her home, a lot of fans thought that she may find it hard to survive.
Tiwa is back on her feet and there is no stopping her this time because she has made us realized that she has made it through. Last week, we saw her on the set of Jenifa's Dairy and since then, it looks as if all has become well.
She appreciates fans for their supports "From the bottom of my heart i want to thank each and every one of you for your support and your kind words during this trying time. Without it, i do not know how i would have made it through. Most importantly, thank you for your continued prayers for Tunji, myself and Jamil. May God meet each and every one of you in your time of need"
For Tee, we have not heard from him expect that he tested negative to the many drugs he was accused of.