On Attacks On The Deputy Governor's Convoy By Political Thugs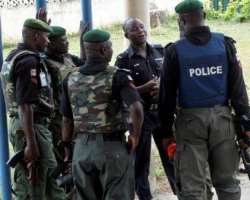 On behalf of the leadership of Network Of Civil society Organizations of Nigeria (NOCSON) graciously led by Abraham Oviawe Esq, we condemned intoto the animalistic, agberoistic cum malicious attack on the convoy of the Deputy Governor, Hon Pius Odubu by some political thugs when he went to Edo North to brief party supporters of his intention to vie for the office of the Governor.
It beats rational imagination that in an era of civilization people don't appreciate the ethics and ethos of universal democracy which gives the Deputy Governor the right to aspire or vie for any position in Nigeria and beyond as far as he is qualified.
As the gubernatorial election approaches, we urge politicians not to regard politics as do or die affair as the era of politics with bitterness has been consigned to the dustbin of history. They should abide by the fundamental rules and regulations of the game and desist from using our youths for thuggery, hoodlumism, hooliganism and agberoism for their egocentric interests.
We call on the deputy Governor of Edo State, in the interest of peace and concord to appeal to his teeming supporters to be calm and law abiding moreso that we are still mourning the transition of our revered monarch to the land of his ancestors.
''No evil deed says Dele Giwa can go unpunished, any evil done by man to man will be redressed, if not by man then by God, if not now certainly later….for the victory of evil over good can only be ephemeral" The dramatis personae will meet their waterloo
We call on the Commissioner of Police, CP Chris Ezeike to arrest and prosecute the political thugs without much ado as this ugly situation portends danger for our nascent democracy.
It is on record that thugs invaded Oredo Local Government Secretariat some weeks ago, the police has not arrested anybody till date even when the car of the Deputy Commissioner of Police was attacked by the thugs who took over the local Government Secretariat.
Agberotocracy should be pooh-poohed by all and sundry if we are to move forward to eldorado as a nation.
signed:
Marxist Kola Edokpayi.
Publicity Secretary,
NOCSON