Insurgents: Fulani Militants Are Worse Than Boko Haram Says Ali Gulak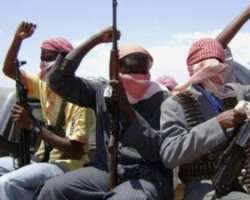 A former Special Adviser to President Goodluck Jonathan on political matters and a Peoples Democratic Party(PDP) chieftain , Barrister Ahmed Ali Gulak, has said that the Fulani Militants are more dangerous than Boko Haram
According to him the Fulani Herdsman is a peace loving person who go about doing his normal cows rearing and the highest weapon with him is Den Gun. But the current killings of innocents Nigeria in some parts of the North down south east of the federation shows that there are Fulani Militants who are Boko Haram in a sort of disguise.
He is urging the Government to take the issues of security seriously as the regents killings in Benue,Enugu, Adamawa,Plateau and Kaduna State is More than just Fulani attackers rather is a Boko Haram by extension.
He also reacts to the security situation in Michika town of Adamawa state where before the onslaught of Boko Haram insurgents the weekly market day used to be one day for all but it has been divided to two days due to distrust and Suspicion among returnees of the town
He said the development has degenerated to having two days currently for the weekly market, One day for the Muslim folks and another day for Christian adding that that can only happened under a Government that lacks seriousness.
Gulak who spoke to Journalists in Yola that the reason why we have such a growing threats was because the state government was insensitive to the peoples plight adding that if the government is serious it would have nipped the situation at it early stage.
"The market do not belong to any tribe or religious affiliations but it belong to people who come to buy and sell.so as a serious government it should not allow that to happen.
"That thing that happened in Michika is because the government of the day is not a serious government. If I am a Governor why will l allow that to happen, whoever is involved will be dealt with, l will decide the day of the market" Gulak said
He said Government does not mean road construction and seating in government house to disturb the masses with siren adding that governance is a very serious business and protection of lives and property, peace and unity.
'If the government will have been serious at early as possible it will have nipped the problem by given a strong order because nobody is above the law. We should play politics with such a thing like security"said Gulak
However one of the growing threats due to the effects of the Boko Haram insurgency in the state is that of distrust and suspicion among the returnees in some liberated communities especially Michika as currently some of the returnees are seen by their neighbors as members of Boko Haram.
"This a time bomb that might exploit at any moment if something is not done to address the issue , whether Christian or Muslim we are one Nigerians." He said.