Beyoncé, Jay Z "happy couple" while out to dinner with Blue Ivy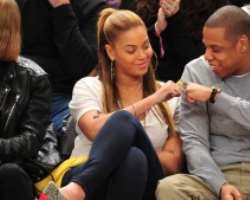 Beyoncé and Jay Z weren't together for the Met Gala, but they reunited as a family unit for a dinner with their daughter, Blue Ivy.Bey, Jay and Blue Ivy went to dinner at Mamo in New York City Thursday, and a source tells E! News that they've been there before. A few of their favorite items are the restaurant's signature truffle dishes, including a pasta and pizza, but the source tells us the special on the menu that night happened to be the couple's love for each other and their daughter.
"Blue was adorable. She kissed Jay during dinner on his head and cheeks and then was playing music by tapping her hands on the table, which caused Jay and Beyoncé to smile and laugh," the insider says. "There were a lot of smiles and happiness that came from the table throughout their meal. Beyoncé and Jay seemed like a really happy
The two couldn't help but gush over their little girl either, the insider adds. "The way they love Blue was really obvious during dinner. Beyoncé and Jay treat Blue so well," the source says. "Blue had great manners at the table. She was also very well behaved. Beyoncé and Jay were looking at each other throughout the dinner, and it seemed that they were really enjoying being together."
The rapper and the "Formation" songstress spent close to two hours at the restaurant. Their romantic family night out comes on the heels of Lemonade, her headline-making album that caused a flurry of speculation about infidelity and who "Becky with the good hair" was. The Beyhive wondered if it could be Rachel Roy or Rita Ora , but the latter star put rumors to rest when she snapped a selfie with Bey at the Met Gala.
As for why Jay didn't stand by Bey's side at the Met Gala, a source told E! News that they felt it would help her album more if she attended solo. "They thought it was a good move that Beyoncé go alone this year to the Met," the insider explained."They aren't fighting but they thought it would be a better look if she came solo for her new album and all the hype that was attached to it."
Mission: accomplished.