Woman lands in Sharia Court for marrying two men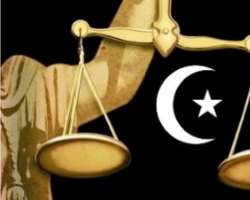 A middle aged woman, Amina Kabir, is currently standing trial before the Jibiya Upper Sharia Court, Katsina, for getting married to two men, contrary to sharia law of the state.
When the case came up, the prosecutor told the court that the embattled woman married her first husband in 1994, while she got  married to  her second husband five months ago.
He told the court further that her first husband, Kabir Mohammed, lives in Jibiya, while her second husband, Shamsu Saulawa lives in Katsina township.
'My Lord, anytime, she wants to sleep with one of them, she will tell the other that she will be travelling to either Jibiya or Katsina.'
However, the prosecutor told the court that nemesis caught up with the housewife when she quarrelled with one of her friends, Hindatu, over debt. The friend, in a fit of anger, spilled the beans.
'Her first husband who witnessed  the quarrel thought that Hindatu wanted to paint his wife black and thus he decided to sue her for defaming Amina.
The courtroom which was filled to capacity, heard from  Hindatu on interrogation telling the court that her friend was indeed married to two men and she was a witness to both marriage ceremonies.
She told the court that she is willing to present all her witnesses.
The presiding judge, Alhaji Kabir Hamisu Bello, adjourned the case till May 9,2016 for further hearing.