Finally, NASS hands over 2016 budget to Presidency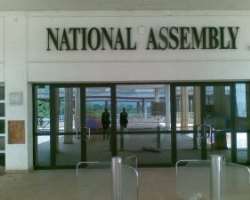 The corrected version of the 2016 budget was, yesterday, handed over to the Presidency through the Special Assistant to the President on National Assembly (NASS) Matters (Senate) Senator, Ita Enang.
The final conclusion and onward transmission of the corrected version of the budget, which had suffered delay, was disclosed by the Deputy Chairman of House Committee on Media and Public Affairs, Jonathan Gaza, while briefing journalists at the assembly complex.
Though Gaza did not give details on how and when the budget was transmitted to the Presidency, sources close to the Presidency confirmed that it was Senator Ita Enang who collected the budget from the 10-man committee of the National Assembly, headed by the Deputy Speaker of House of Representatives, Yusuf Lasun.
Recall that earlier in the day, it was scheduled that the deputy speaker would hand over the corrected version of the budget in the presence of journalists, but the plan was later cancelled and was submitted quietly.
While fielding questions from journalists on the position of the budget, Gaza said: 'It is the same media that has kept the whole country abreast. Don't forget that we are equally Nigerians and it is our desire for the country to move forward.
'A committee was set up, which was in the papers and was headed by the deputy speaker. Members from the Senate as well as the executive arm looked at the budget and I believe the resolutions have been transmitted or rather the resolutions have been submitted to the President.
'I am quite optimistic and I enjoin all other Nigerians, including yourselves, to be as optimistic as me that in the very near future, this budget will be signed into law.'
On when the budget was submitted and whether it was an amendment that was submitted, the House Deputy spokesman said: 'Well, I honestly believe that we have to be quite careful with our choice of words.
'Over time, there have been differences and both arms of government had sat down to look at what those issues are. Most importantly, what we want is to see our country and our economy moving forward.'