COURT DISMISSES BODE GEORGE'S N2BN LIBEL SUIT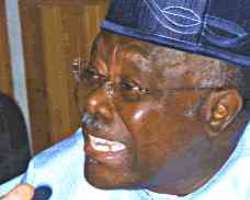 Bode George
A Lagos High Court in Badagry on Wednesday dismissed the libel suit filed by a convicted former Chairman of the Nigerian Ports Authority, Olabode George, against TheNEWS magazine, PM NEWS and the Daily Independent newspapers.
George had claimed an aggregate of N2bn damages in the libel suit against the newspapers while the lawyer to the defendants, Mr. Femi Falana, had contested the application.
In his judgment, Justice Akeem Oshodi held that a man could not claim damages for a reputation that he did not possess.
Having reviewed the facts of the case, the judge held that all the witnesses called by George did not prove beyond reasonable doubt that he was libelled by the media reports, which were tendered in court.
The judge further held that since George had earlier been convicted by a Lagos High Court judge on the same facts which he claimed he had been libelled with, it would be inappropriate to grant him damages on those facts.
He said, 'The court notes through the submission of the defendant that the claimant had been convicted to two years without an option of fine on the same facts which he alleged libel. A man cannot lay claim to a reputation that he never had. And as such this case fails in its entirety.'
Justice Oshodi also faulted the argument of George's lawyer, Mr. Bambo Adesanya (SAN), who claimed in his final submission that the judgment in which his client was convicted was of no relevance to the libel suit, on the grounds that it was not in existence as at the time the case was instituted.
He further held that George was only trying to deceive the court by claiming that he was not under any probe by the Economic and Financial Crimes Commission or any panel of enquiry.
But the EFCC later preferred a corruption charge against George and five others before Justice Joseph Oyewole of a Lagos High Court sitting in Ikeja.
Justice Oyewole had in his judgment delivered on October 26, 2009, found George and five others guilty on a 28 -count charge of disobedience of lawful order, abuse of office and contract splitting and sentenced them to jail accordingly.
Justice Oyewole found them culpable on a seven-count charge of abuse of office and sentenced each of them to a two-year jail term without an option of fine.
George and other convicts -the former Managing Director of the NPA, Aminu Dabo, Olusegun Abidoye, Abdullahi Tafida, Zanna Maidaribe and Sule Aliyu -are currently serving their jail terms in Kirikiri Maximum Prison, Lagos.