The Economy, Our Graduates And The Way Forward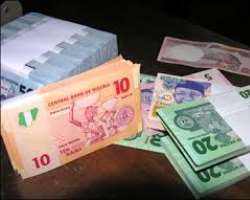 Our economy can be likened to a fresh graduate who is beginning to face the harsh realities of the labour market. While in school, most students live very comfortable lives. Many get cool cash from their parents and loved ones in the guise of payments for accommodation, handouts, community service and their likes. Nigerian university students are the highest owners of the latest IPhones et al. Life is good, ain't it?
What we had is what I call a 'cosmetic economy. It was an economy which was completely dependent on only one source of revenue - oil and manipulated by a few greedy folks. Now that oil has lost value and revenue has fallen short, it is only natural for the economy to crumble. There's no magic about it.
Back in school days some of these young chaps lived in very good apartments, in some cases they even drove porsche cars, and enjoyed delicacies. But all these came from somebody else's pocket. This reminds me of an African proverb which says, "cut meat, cut meat, all is coming from a cow's body". Little wonder our young graduates are facing severe hardship in their own country. They are having extreme difficulty in adjusting to Nigeria's oil-based economy because they are used to receiving help from a single source.
Because life is dynamic, man must constantly strive to evolve into a better being that can adequately adapt to dominant universal forces. I am a strong proponent for an act establishing mandatory jobs or entrepreneurial placements for our university undergraduates. Our students should begin their work experience from school. Rather than spend long weekends partying, our students could give helping hands to factories and firms for a fee.
Nigeria needs to move from 'diversification' on paper to real time ground work. Time has come for our country to begin production. That is the only solution to our economic woes. The fall in oil price has been widely celebrated by many economic realists. To them, this is the nudge that we need in order to become less dependent on black gold and focus on other viable sectors of our economy like mining, agriculture, tourism, sports, entertainment et al.
With vast spread of good land all over Nigeria, it beats my imagination why the lack of service placement for graduates is still troubling the management of the National Youth Service Corps (NYSC). Now that we are talking about diversifying our economy, a robust agricultural programme should be developed and activated immediately, whereby NYSC members would be allocated lands for arable or pastoral farming. It is said that if we begin to produce what we eat and only eat what we produce, our economy will grow in leaps and bounds.
There is no more time to waste. According to The Independent, a UK based newspaper, the world is expected to suffer a major rice shortage after global production was hit by extreme weather patterns - potentially fuelling an international price crisis. The paper reports that hot weather and droughts brought on by the El Nino system continue to affect production in India, Pakistan, Thailand and Vietnam, where 60% of the world's rice is grown. Grain stocks in those countries are forecast to plummet to 19 million tons by the end of the year, down from a peak of 43 million tons in 2013.
Dr. Samarendu Mohanty from the International Rice Research Institute (IRRI) told The Independent: "There is no doubt that the supply situation is very tight, and this will inevitably cause a spiral in demand. The extent of this crisis all depends on what happens during the upcoming monsoon season. If it goes badly in India and Indonesia and the crops don't get the rain, there could be real trouble ahead", he said.
To end the scourge of a mono-economy and the resultant effects of unemployment and the rest, Nigeria should key into mechanised rice farming at once. For a start, the Federal Republic of Nigeria can encourage young school leavers to begin rice farming.
We have the manpower for rice production and a ready market for the grain, but what we lack is technical know-how, incentives (land, loans, machines, etc) and the political will to drive the process through. The way forward is for President Buhari to write his name in gold by transforming our young unemployed graduates from miserable dependants into dependable pioneers of the imminent 'green revolution'.
~ Solomon Okocha
Disclaimer:

"The views/contents expressed in this article are the sole responsibility of the author(s) and do not necessarily reflect those of The Nigerian Voice. The Nigerian Voice will not be responsible or liable for any inaccurate or incorrect statements contained in this article."