Hassan Barguma: The Growing Tall Of Adamawa Lawmaker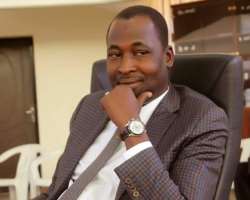 The amazing Political story of Hon Hassan Mamman Barguma, born 12 july1969 in Hong Adamawa state who out of devine guidance and direction burst into political limelight of Adamawa House of Assembly early last year. It was when the All Progressives Congress (APC) had a watershed victory in almost all the state in the federation and there was new ground for one to tilt in the political face of the state and came a befitting metaphor on the attractiveness and challenges facing the ADHA to form an entire new leadership of the Assembly.
Prior to his rise to fame, Mamman briefly worked with Adamawa state Environment protection Agency,being a man of focus and Vision he later resigned to business before destiny beckoned where he contested and won an election under the plat form of All Progressives Congress (APC) to represent the people of Hong Constituency in the state's House of Assembly.
Barguma who studied Environmental Sciences with a specialization in town planning, but his ingenuity and versility of knowledge has no doubt placed him a voice to be reckon with in the affairs of ADHA. He played a major role in instituting the new leadership that brought in Rt Hon Kabiru Mijinyawa as the speaker of the House.
Chairing a committee on information and member of many other committees,he turned it a more than deserve office as he is becoming a defending voice to the house, creating an image that best Sweetable to the honourable house, Oratoring the affairs of the House with high form of precision.
Many are looking and counting on him to be the number one to join hands with the Executive Governor of the state to safe and revive Adamawa state from total collapsing as a result of past adminstration poor style of leadership. Considering him to be a rare gem amongst the many ones however, is one man who stands conspicuously taller than many up coming politician in character, honesty, integrity, achievements.
Hassan is bend on making sure that his duty as a law Maker is not relegated at the back drop as within the few months spend in the House there are more than five Bills in his name that will soon be turned into law to the benefit of Adamawa state people. One of the Bills catching the attention of many people is the to ensure total rehabilitation of IDPs and footing their medical bills.
Aside sponsoring and processing Bills into law Mamman as a matter of duty taken physical projects to constructs and rehabilitate,provide portable water to the people of Daksiri ward. Hosere zum ward. Thilbang ward. Hong ward and shagui ward. Reminding them that is part of the Bindow government agenda to bring social change to the entire state.
This his standing tall qualities of a good leader and as an unassuming team player in the quest for changing Adamawa state and country in general for nation building.
His meticulous growth of politics in the local and even the state level rise became noticeable ever since at a time when it was fashionable to sell integrity and honour for a paltry some of naira, this adorable man stood his ground, paid his dues in ensuring that the All Progressives Congress (APC) takes its place of pride, for the record, the
mantra ''change'' didnt come to play by accident. Suffices to say HASSAN MAMMAN BARGUMA lacks in Adamawa standard of measuring wealth, he has in abundance in good nature, good health, amazing grace, respect, honour, competence, wisdom, peace including good friends, associates,political allies and Well wishers that would go to war with him without a request and without hesitation to take the state the promised Land.
A good leader is not made overnight while charity begins at home. HASSAN BARGUMA is a product of good marriage, family life and dependable allies, the reason he enjoys peace and supports both at home front and at national level.
It is for these reasons and many more the space and time would not allow one to write that I doff my hat to an iconic leader of all leaders, a political generalissimo and ever smiling, ever loving and ever hard working leader. Political historians would have some stories to tell in the nearest future that this young law Maker has emensely contributed to the development of Adamawa state
A shrewd politician who is seeing and symbolising Adamawa state as a glorious Horse whose pride,Strength and beauty will be unassuming if it is never left in the hands of selfish Nigerians.