The rise and rise of Nigerian gospel musicians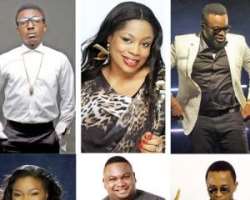 Since 1999 when Kenny St Brown released her wave making gospel song, Heavens Came Down, the gospel music industry has blossomed giving birth to groups like Infinity and Midnight Crew among a host of others. However, while they may not be getting the endorsements, these artistes are giving their hip-hop counterparts a run for their money, releasing back to back hits and shattering the myth that gospel mu­sic cannot be commercial. Today, we bring you top gospel artistes shaping the gospel music landscape in Nigeria.
Lara George
At a time when contemporary gospel music was still in its infancy in Nigeria, ex-Kush girl, Lara George held the bridge for the genre. Lara George who has over 60 songs to her credit is a graduate of Architecture from the University of Lagos. She released her debut album, Forever in My Heart, after Kush broke up. With hits like Ijoba Orun from her de­but album and her latest hit, Dansaki, multiple award winning Lara George has contributed immensely to the growth of gospel music in Nigeria no doubt.
Eben
Obviously one of Nigeria's biggest contemporary gospel acts and vocal power house, Eben is no doubt a force to reckon with talking about contemporary Nigerian gospel sound. He started out as a rapper but later discovered he had a great voice and ever since he has never looked back. Among others he has worked as a backup singer and in 2007, he released his debut album, On the Rock, to wide acclaim featuring hit tracks like Imaranma, God Dey and Iwo Nikan. One thing that sets him apart is his experimentation with gospel music and rock which he christened Afro cen­tric rock. Today, he is the CEO of Hammer House of Rock, a record label. His sophomore album, Phenom­enon, released in 2013 was a runaway success.
Frank Edwards
Twenty-six-year-old Frank Ugochukwu Edwards is from Enugu State. His love for music began at an early age after his dad taught him to play the piano and today, he is one of those voices redefining gospel music. Frank Edwards released Mama, his runaway hit track in 2013 and ever since he has continued to grow from strength to strength. He is the founder and Chief Executive Officer of Rocktown Records. The journey to the top began for him in 2008 after he re­leased his debut album, Definition, a 14 tracker. This was followed by Angels on the Runway and Unlim­ited in 2010 and 2011 respectively.
Ajuju
The transformation of Nigerian gospel music will not be complete without the inclusion of Anthony Ojeah aka Ajuju, who rose to fame and stardom after the release of his single, Chante, in 2008. Growing up, Ajuju was the leader of his church choir. In 2008 he released Chante and broke the gospel/secular music barrier. To date, he has performed on international platforms including the annual Calabar Carnival where he was discovered in 2007and Rhythm Un­plugged among others.
Preye
Preye Odede is another personality that is making waves in the gospel music industry. An indigene of Ekeremor Local Government Area in Bayelsa State, his soul-lifting music has been described as refresh­ing. In 2009 he bestrode the Nigerian gospel music scene with the hit single, Ebezina. This was followed by his debut album, My Script, in 2012. One of his latest songs, Hosanna, has become the delight of gospel music lovers.
Mike Abdul
Mention Midnight Crew and you mention the name Mike Abdul. Though a member of the group which gave us run-away hit, Igwe in the mid to late 2000s, Mike Abdul has successfully transformed from being a member of the group into a solo artiste. Thanks to an agreement which allows members to pursue solo careers while members of the group. Abdul's display of robust musical skills has definitely earned him a niche in the indus­try. Mike Abdul released a solo single, Mo Ri Re in 2013 featuring Monique to launch his solo career and ever since he has contin­ued to grow from strength to strength.
Nathaniel Bassey
Another gospel artiste defining the musical landscape in Nigeria is Nathaniel Bassey. The Akwa Ibom-State born artiste developed pas­sion for jazz music in his early years listening and playing to the music of Louis Armstrong, Miles Davies, Clifford Brown and Phil Driscoll among a host of others. He later became a member of a jazz band, Spectrum 4 where he was discovered by the late musi­cologist, Elder Steve Rhodes. His released his debut album, Elohim, in 2008.His latest album, The Son of God was released in 2014.
Sinach
Mention Osinachi Kalu aka Sinach and you mention the gospel song that has become a national anthem beyond the shores of Nigeria, I know Who I Am. She came to the limelight through the ministry of the Love­world Music Ministry owned by the Christ Embassy. Though Sinach's musical career is over 15 years, it took a dramatic turn after the release of her song. In 2014, she got mar­ried to a Christ Embassy Pastor. However, this has not stopped her blossoming career. Today, across the world, Sinach is a brand to reckon with when names of gospel musicians are mentioned.
Steve Crown
Steve Crown is a multi-talented gos­pel singer from Benue State and could be described as the latest gospel music revela­tion following the release of his debut single, You Are Great, which is currently ruling the airwaves. Steve Crown discovered his love for music in his teenage years and joined the choir of his local church. Today, he is a regu­lar artiste at religious events winning fans to the gospel music genre.
Joe Praize
From Christ Embassy comes another singer shaping the gospel music landscape and his name is Joseph Omo Ebhodaghe, aka, Joe Praize. Born into a family of nine, his music career started in the church as a worship leader. The graduate of Social Work & Social Administration from the University of Jos in June 2015 released an album entitled, The Most High.
Solomon Lange
With three albums to his credit, multiple award winning gospel artiste and Peace Am­bassador, Solomon Lange, has carved a niche for himself in the Nigerian gospel music space. Described as an international gospel star and motivational speaker, he is an indi­gene of Kaduna State. He started his career in 1997 and today, he has three albums to his credit, Na Gode, Alheri and Yabo. To date he has ministered with the likes of Donnie Mac Clurkin, Ron Kenolly, and Sammie Okposo among a host of others. Today, he is taking the gospel to every nuke and cranny of Nige­ria. - Culled from the Sun.