Ruth Kadiri Pays Surprise Visit To School In Delta State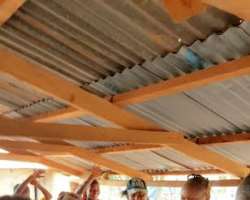 With the current situation of the country, especially as regards its socio-economic derailment, which has grossly affected the educational sector, quite a number of reasonable individuals have taken it upon themselves to complement the efforts of the government in contributing to the bright future of today's lads and lasses.
While on a movie set in Delta State, fast rising Nollywood actress, Ruth Kadiri, who is well known for her charitable nature, did it again; when she decided to pay an unplanned visit to a school which is situated in a village in Delta state, taking school materials for the children in the school.
Elated and surprised by her unexpected philanthropic act, the students and teachers in the school, could not stop giving their prayers to the actress, who seems overwhelmed by their reception and unending prayers in appreciation of her kind gestures.