My Number of Years on earth is Not Enough…John Ogu Reveals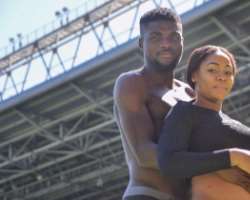 Super Eagles star, John Ogu, is such a romantic footballer not just on the leather games but with his woman.
He seems to be making everything happen on the soccer pitch for example, he proposed to his wife Chiugo Adaolisa, after a football match in his club some months back and now he just shared photos of him playing with his unborn daughter on the pitch.
Maybe he is already thinking of registering his child with a football academy so he or she can also follow the round leather game as they had their pregnancy photo shoot on the pitch.
He went on to tell his wife that "If I was granted just one wish, I would ask for longer life. The numbers of years I am destined on this planet may not be enough for me to tell you how much I love you baby Adaolisa."