'bread Seller Turn Model' Olajumoke Orisaguna Gives Out N5,000 Each To Bread Hawkers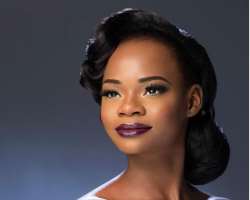 BEVERLY HILLS, April 29, (THEWILL) – Listed Google's most searched Nigerian between January to March 2016, Olajumoke Orisaguna's story has fast become a prayer point for many.
However, despite her rise from grass to grace, the bread seller turned model hasn't forgotten her roots. On Tuesday, April 19, 2016, the pretty mum of two visited Liberty Bakery where she once lived in while struggling or a livelihood, to give back to bread hawkers she left behind.
She gave about 40 bread hawkers N5,000 each donated by a philanthropist.
In a chat with Encomium , Olajumoke talks her change in fortune, first day in school and sundry issues…
Life in the last two months…
"My life has changed. I am not the same person I used to be. In the sense that things are better for me and my family. I am now working, we have a beautiful place to call home."
On her new home where she has a five-year stay thanks to Sujimoto…
"I am really enjoying it. It is such a beautiful place. I can't imagine myself having such a lovely place as my home. I can't be more grateful."
The transition from village to bakery and now to a three bedroom flat…
"There are a lot of differences in it. I was sleeping on the floor at the bakery. At home in Osun state, I shared a room with a lot of people. I now have a three bedroom flat. I have a room to myself, my children also have theirs. I have seen a lot of changes."
Changes…
"I am still the same Jumoke people know. The same Jumoke people knew in Osun state is the same as the Jumoke speaking with you right now, but the story of my life has changed. My lifestyle has changed. I am looking healthier, living healthier, I have more things to be thankful for.
I have a lot of clothes, not just clothes but fashionable ones. I eat better things. People have been helping us from right, left and centre."
Friends and family…
"I don't have friends now. My husband and my children are my friends now. Even while in Osun state, I didn't keep friends. I don't like going to a friend's house to gossip and all that. It is not because God has smiled on me, no, that is who I am."
Speaking on her children, "They are doing fine. They are about starting school. My first child is in primary one, the other one is in crèche."
Education…
"School is fine. I am enjoying it. I have learnt a lot of things." On her Make Me Studio Internship, she says: "I want to finish school first. I don't want to be doing the two at the same time. Once I am done with school, I will face that."
Her appreciation to her helpers…
"I am more than grateful to them all. It is only God that can reward them. I know God will continue to bless them, take care of everything they do. All they have will not diminish. I can never forget them, Sijimoto, Aunty Azuka, Mummy TY Bello, Shirley Bakery, Payporte, Stanbic IBTC. God will not leave all of them. They have added meaning to my life. They will continue to make progress, their children will be protected. They have all made impact in our lives. If not for them, we wouldn't be where we are today. God will continue to keep them, their companies and their children."
On giving back at the bakery….
"Yes, it is true. A good Samaritan gave me money and asked me to distribute to my friends at the bakery. I pray that God will bless him and make him progress in life. He doesn't want his name mentioned. I am giving out N5,000 to about 40 to 50 people at the bakery."