Fulani herdsmen attack another community in Benue State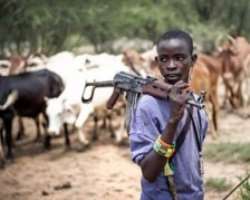 Fulani herdsmen have reportedly invaded another community in Benue State.
They herdsmen numbering about 50 swooped on Ologba community, which shares boundary with Nasarawa State,  on Wednesday night
The attackers who were armed with guns and machetes were said to have  stormed the village around 6pm, shooting and setting many houses on fire.
Ologba is also sharing boundary with Agatu, the Benue community where genocide was committed by Fulani herdsmen in March.
According to Authority Newspaper,  a resident said that Fulani gunmen, numbering over 50 stormed the village, armed to the teeth.
"As we speak they are shooting and burning houses in Ologba. They are about to enter Obagaji.
"We are appealing to security agencies to come to aid," said the source who spoke over the phone.
Details as to the number of casualties had not been ascertained at the time of this report, but the herdsmen are known to resort to mindless killings each time they attack any community.