Popular Singer, Jodie shares first photo of her new born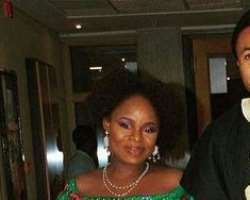 Children are blessings; the joy of parenthood is priceless. Nigerian singer Jodi welcomed her first baby with husband David Nnaji on Monday, April 11, 2016.
The excited new mom has shared a photo of her cute little one.
The singer who married her manager in October 2015 in warri, Delta state, shared a photo of her husband cradling her son.
Her husband, Nnaji is the CEO of Dun Entertainment which pushed out Jodie's first album 'African Woman'. The album was released in 2012.
Jodie is a singer blessed with a good voice, she is not just mesmerized by her new born, but by her husband as she described him as: "Best Husband, Best Dad."
In the photo Nnaji can be seen cradling his first child.
Jodie and her manager turned husband had their traditional wedding in Warri on October 31, 2015. The two stars had a low profile traditional wedding ceremony which was graced by few of their friends and family members.