FRSC warns against overloading, over speeding and use of bad tyres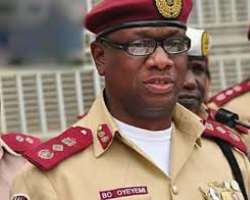 The Federal Road Safety Corps has listed overloading, over speeding and  bad tyres  as major causative factors of road accident in the coun try.
The commission warns  that with increasing hot weather conditions vehicle owners and drivers to pay keen attention to the conditions of their vehicles' tyres more than ever before.
The Corps Marshal of the Federal Road Safety Corps, Boboye Oyeyemi, who spoke in Lagos recently, said the biggest challenge of securing Nigeria's road is overloading.
According to him,  overloading is more common among commercial vehicle drivers, adding that no fewer than 1,000 drivers are booked all over the country daily for contravention of the loading rules.
"Even when you look at some of these vehicles that are overloaded, you will find out that it would have taken them several hours to load them. Hours they could have used in doing the right things, " he said.
The corps marshal also  urged vehicle owners and drivers to pay attention to the way and manner their tyres are fixed and to ensure that their tyres are installed with all the knots tightly fitted and intact.
Besides, he urged motorists too ensure that the use healthy tyres in their vehicles, saying that tyres are not what any sane man can 'manage'.
According to him,  tyre burst is one of the factors responsible for road crashes, saying that  some tyres are expired, some  substandard,  some are under-inflated, some  over-inflated, while others  some have been handled wrongly by vulcanizers."
Oyeyemi also said the time has come to encourage all passengers in vehicles to use their seatbelt.
He said this saves a lot of lives in case of any mishap.
He said even those at the rear of cars should cultivate the habit of using seatbelt, adding: "Let us promote safety.
"More lives can be saved."
Oyeyemi also admonished Nigerians against the usage of phones while driving.
He said despite the fact that some people feel that they can not be held liable for texting while driving, this is even more dangerous than taking or making calls.
He appealed to Nigerians to drop the usage of telephone in its entirety while driving.