DJ Cuppy Gets Intoxicated with Anthony Joshua's Charms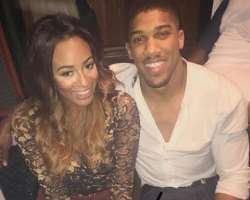 Sometimes it seems only the rich can be able to associate with their fellow peers but a poor man may not get the opportunity of going close to some certain people (Money speaks).
Recently, while many Nigerian ladies are hoping and wishing to have a feel of Nigerian-British born IBF heavyweight world champion, Anthony Joshua, billionaire Femi Otedola's daughter - Florence, also known as DJ Cuppy, has gotten a grip of him already.
The DJ was spotted with the fighter over the weekend when they went partying and they decided to have a photo together.
Lots of ladies will sure be envious of this but it happens to be a lucky day for DJ Cuppy so, she has to use it well and maybe have his number so she can play for him any day he calls on her.