Northern Book Fair Reopens In Kano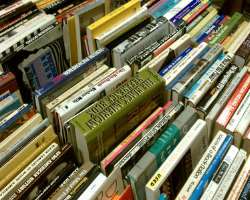 After a 5-year hiatus to enable the reconstruction of the fair's committee and repackaging of the book fair to better accomplish its primary purpose, the Northern reopens in Kano on April 24 and runs till April 29, 2016. The fair is one of the three regional affiliates of the Nigerian Book Fair Trust.
A major difference from the norm is the restructuring of the Book Fair to tour all 19 states of Northern Nigeria not just Abuja and its neighbouring states.
The fair congregates publishers, booksellers, libraries and literatures in a week-long exhibition. Drama and Debate Competitions by secondary and tertiary institutions respectively will feature during the week.
Likewise, an award presentation to individuals, businesses and groups that have contributed to the development of book industry in the event will round off the event.
Northern Zonal Coordinator, Alhaji Sanusi Nassarawasays although the fair claims the least experience of the three affiliates, it's equipped to "make valuable input in the standardization of our education system and the book industry.
The Northern Book Fair is back and better. We shall ensure its continuation across the constituent states annually, depending on willingness of relevant institutions to partner with us," Nassarawa concluded.